Welcome to an inside look at the accesso® Knowledge Base!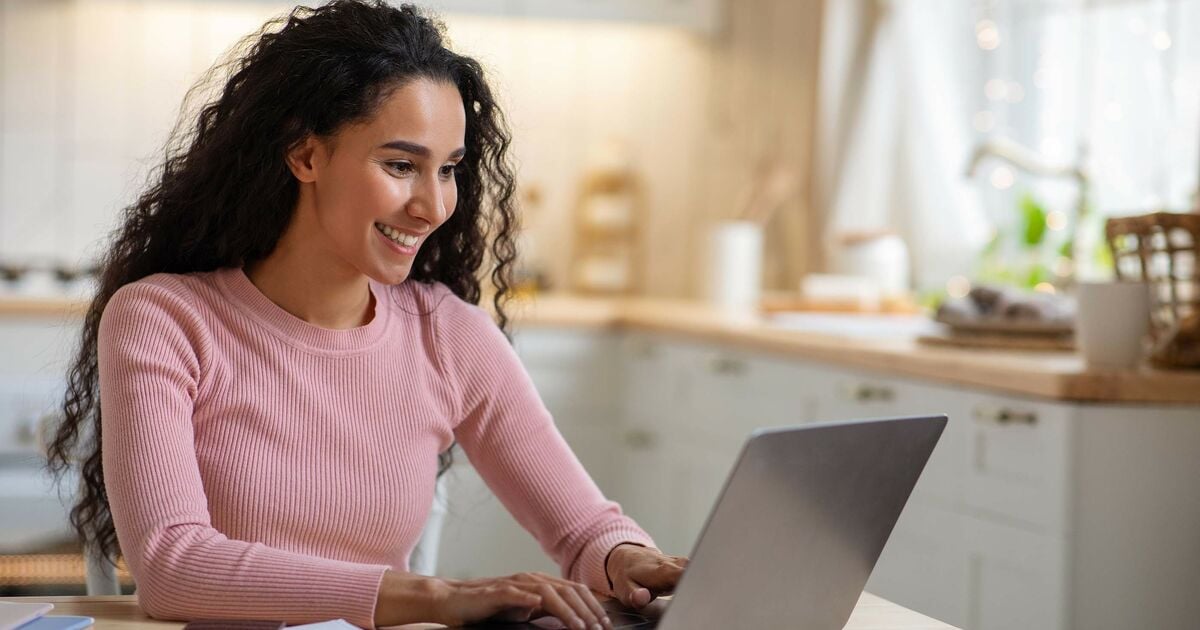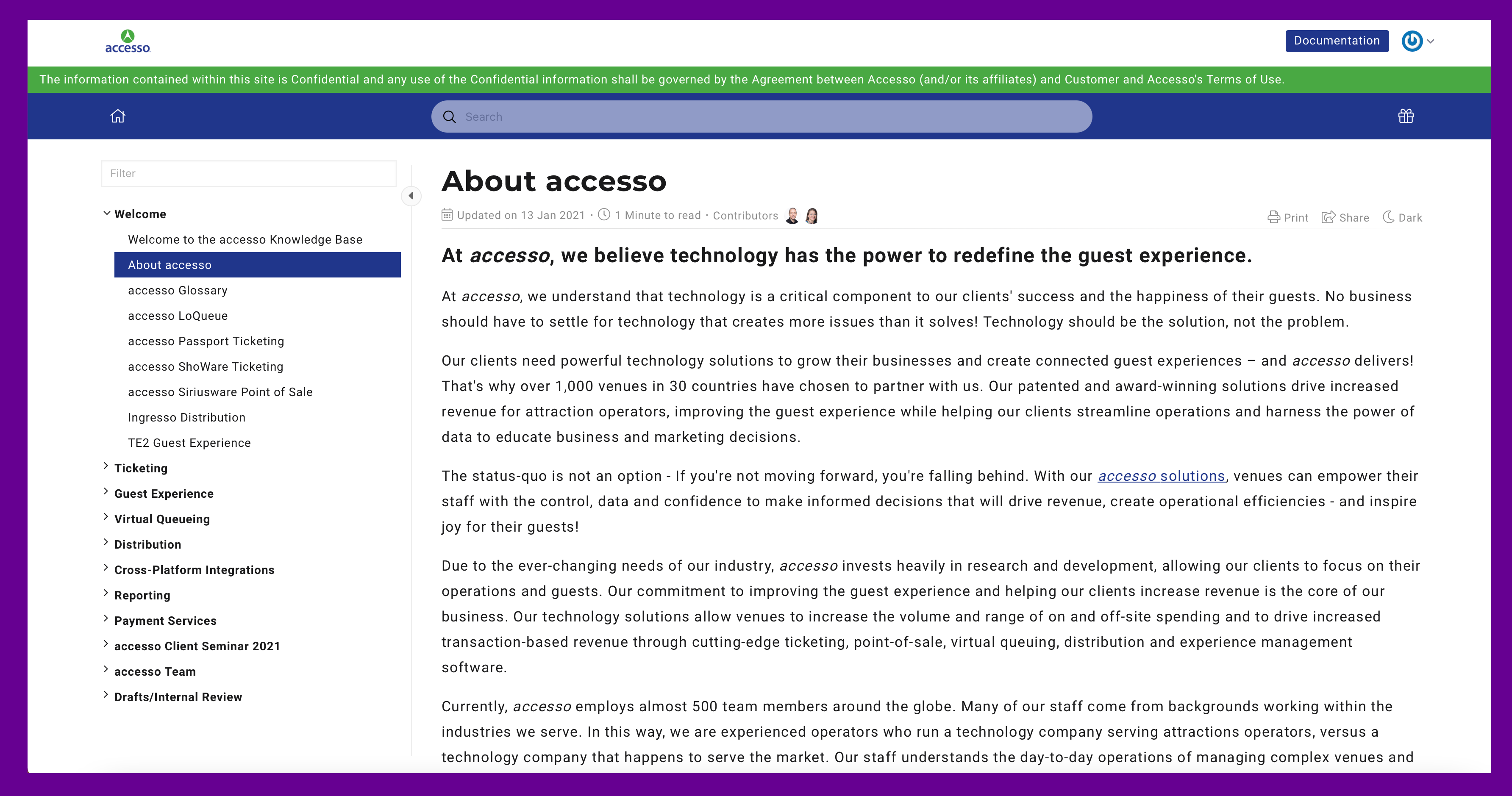 The accesso Knowledge Base is an easily searchable, dynamic, interactive online document repository designed specifically for use by accesso clients. From product installation and configuration to daily use and troubleshooting, the Knowledge Base is a central hub of information on each of accesso's platforms and services—ticketing, virtual queuing, distribution, guest experience, payment services, reporting, and more. You'll find it all in the Knowledge Base!
Optimized for viewing on any browser on any operating system, the Knowledge Base gives accesso clients instant access to the latest user guides, release notes, and installation guides. No more worrying about whether a PDF your team emailed you is still up to date. Updates to the Knowledge Base are available instantly as soon as they are published, so you always have the most current information!
The Knowledge Base boasts thousands of articles across the entire accesso product suite, but clients can rest easy knowing that the content and search results will be relevant to their organization. Access to the site is carefully customized by client email domain, allowing each user to view articles that are laser-focused to meet the needs of their business.
A variety of easy navigation options are available within the Knowledge Base, including robust search functionality, helpful article tagging, user-friendly folder categorization, and a clickable table of contents within each article. Since launching the site, venue managers, marketers, and operations teams have benefited from bookmarking direct links to articles—as well as deep links into specific sections of articles—to utilize as resources for training new employees and creating venue-specific how-to guides.
A new feature that we are excited to bring to Knowledge Base soon is Learning Tracks. Learning Tracks will provide tailored courses for beginners and advanced users on a wide variety of accesso systems and services. Your new employees can get up to speed quickly with an "accesso Passport® 101" course, for example, featuring a selected group of articles covering the basics of our accesso Passport eCommerce ticketing suite. More experienced staff could benefit from Advanced Tracks, which offer deep-dives into more complex topics such as system configurations and integrations across accesso product lines.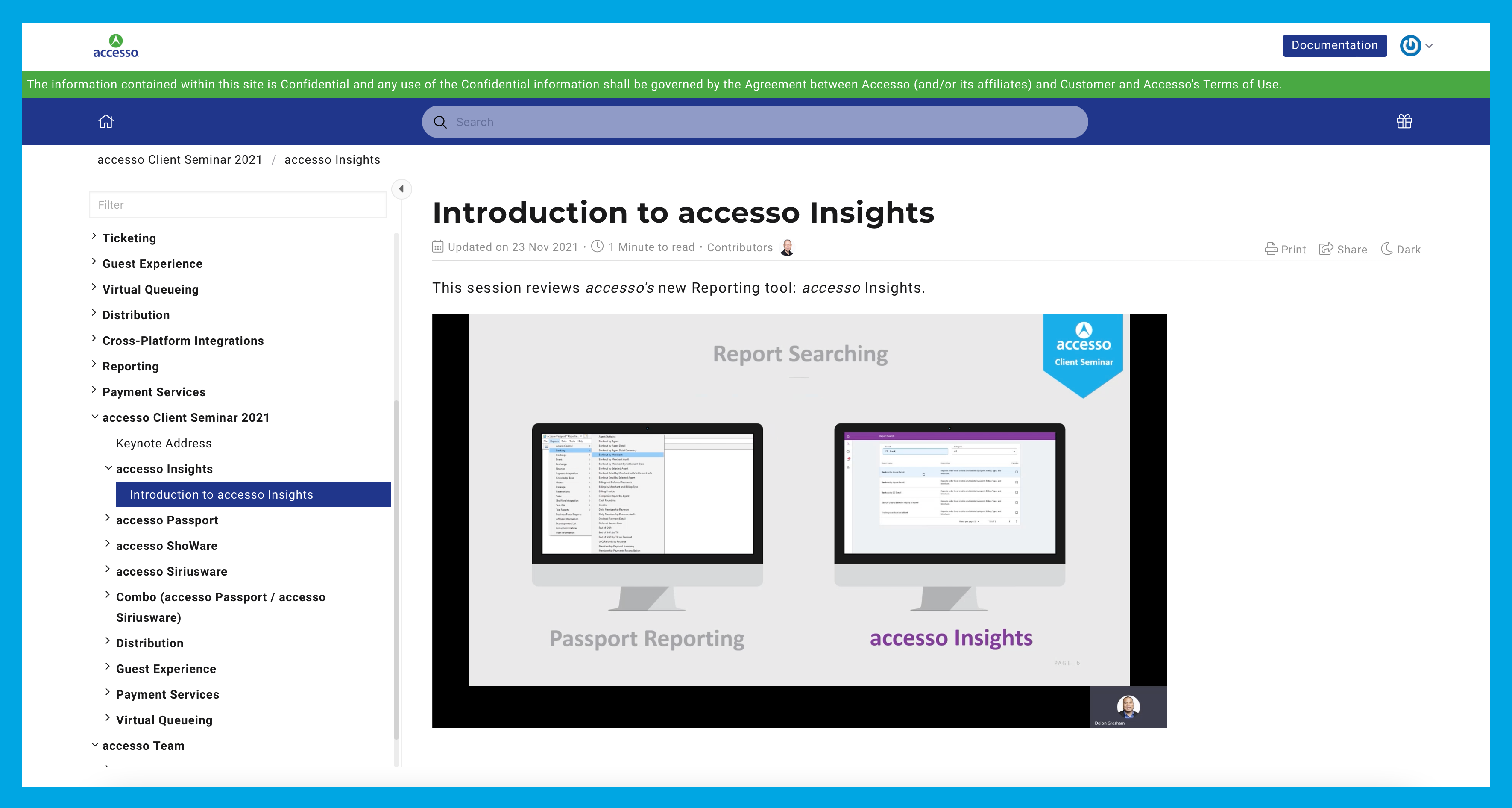 The Knowledge Base easily expands to accommodate new articles and categories of articles without breaking any of the direct links you may have bookmarked. And rearranging content to accommodate the Knowledge Base's growth is as straightforward as dragging and dropping files and folders into their new positions. All new or rearranged articles and categories will be available to clients as the content is updated, making for a smooth and focused learning experience.
The ability to create up to six levels of categories and subcategories ensures that new content can be structured in a way that is intuitive to navigate. As a Knowledge Base user, you will always have access to the latest information, a vast improvement over static files distributed via email that could end up being several versions out of date.
While the team continues to add new content weekly, with more than 1,300 articles already published across all categories of the Knowledge Base, the ideas are not just coming from the folks at accesso. Clients are encouraged to suggest topics for new articles, and one accesso SiriuswareSM client even submitted how to better set up a third-party connection, which the team then converted into a Knowledge Base article for all accesso Siriusware clients! The continued evolution of the Knowledge Base is a collaborative process between accesso and its partners.
As clients grow with accesso, so too will their product documentation offerings on the Knowledge Base. Shortly after adopting a new product line, staff will see the articles available in their Knowledge Base grow as well. For example, when adding the point-of-sale power of accesso Siriusware to the eCommerce abilities of accesso Passport, clients can take advantage of accesso Siriusware setup and user guides without navigating to another website or entering new login information. Whether using accesso ticketing, guest experience, queuing, or distribution offerings, clients have a host of resources designed to help them navigate through their day-to-day needs.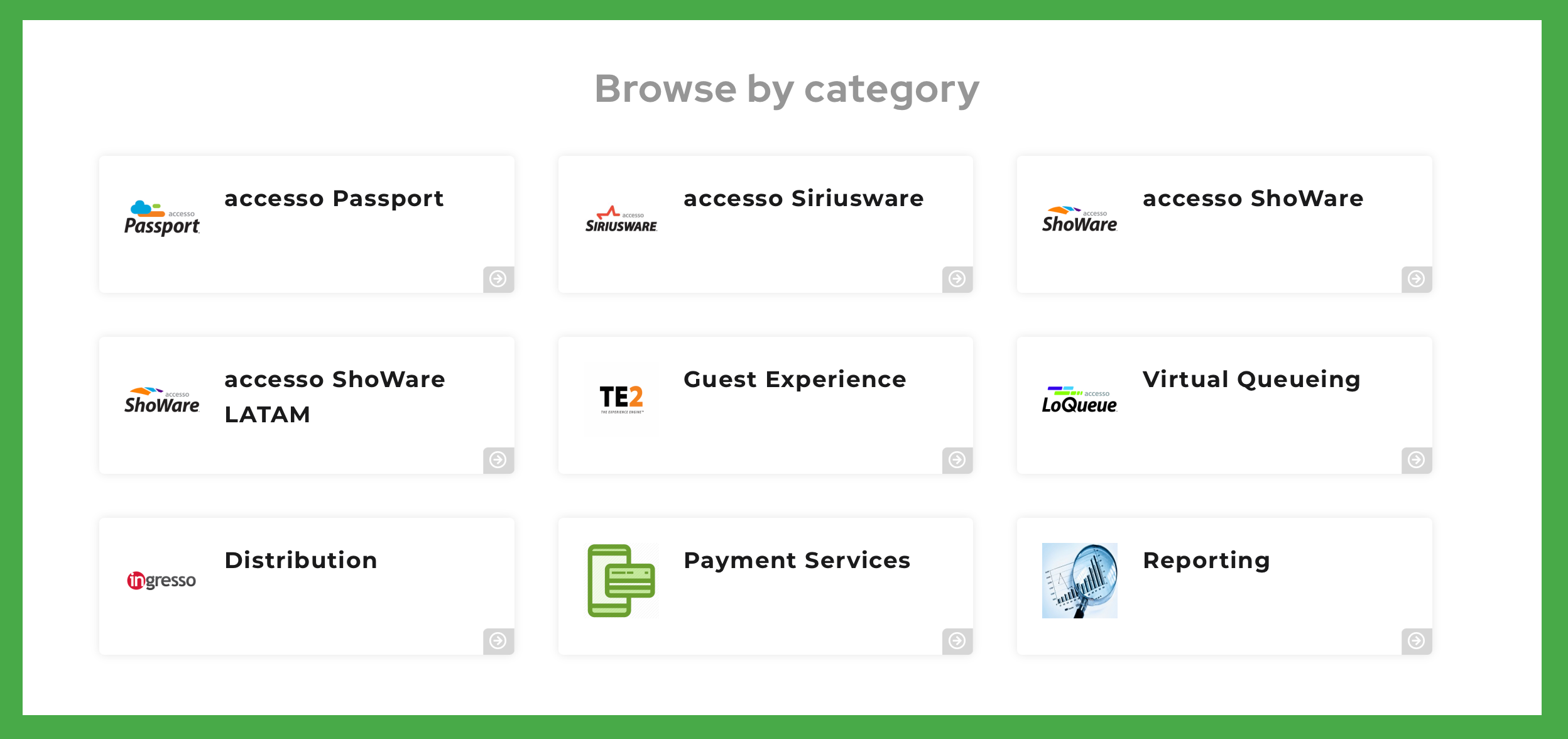 Ready to sign up and explore the Knowledge Base? Or do you have additional questions about using the Knowledge Base? Contact your CSM or accesso representative to get started. All you need is an email address domain to allow self-registration amongst your staff, so reach out today!