People of accesso: Valerie Wierenga – On Culture, Teamwork and Working in Tech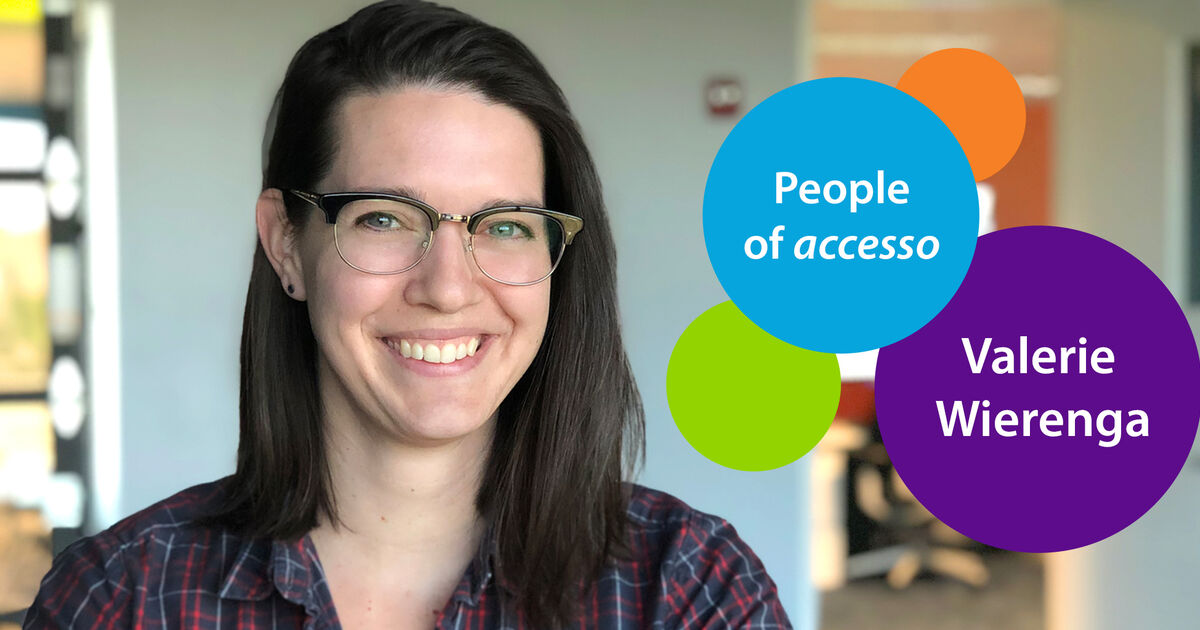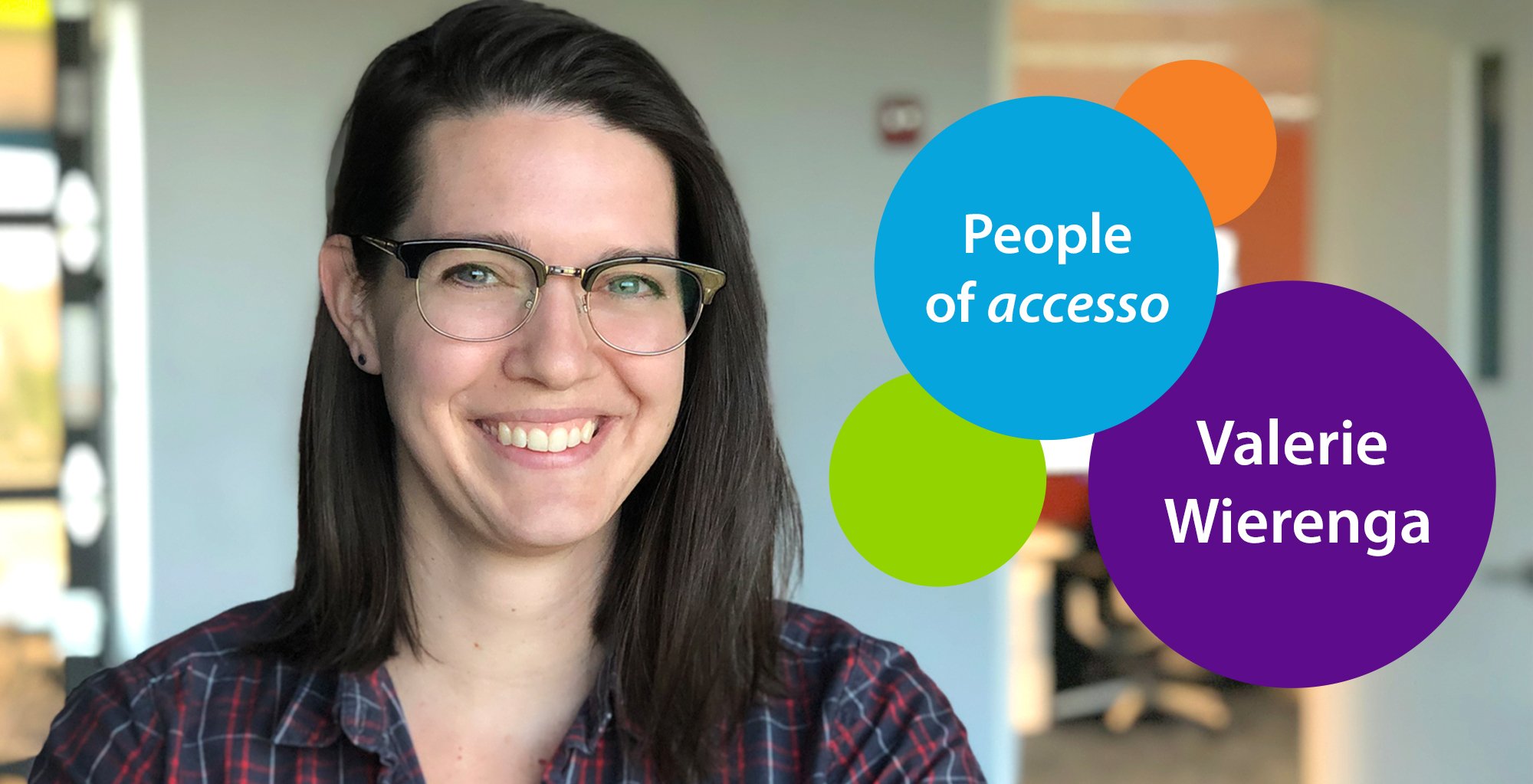 In October, we kicked off the "People of accesso" blog series with the goal of highlighting some of the incredible and passionate professionals that make up the accesso team. Beginning with CEO Paul Noland and on to EMEA Director of Ticketing Operations Robin Goodchild, we've returned to the states to share some insight from one of the leaders of our office in Lake Mary, Florida – accesso Product Owner of Ticketing Research and Development Valerie Wierenga – to take a closer look at the accesso company culture, the importance of investing in others and what it's like to be a woman in technology.
Behind the Curtain
Like so many of our team members, Valerie originally worked in one of our client industries before joining the accesso team. She grew up in a musical family and was naturally drawn to the live performance space, where she kicked off her career overseeing marketing for a venue operator.

From ticketing to upselling and event logistics, Valerie had a front row seat to the behind-the-scenes world of venue operations, gaining a better understanding of the roles and needs of each individual player along the way. "Looking back, it really laid the foundation for my long-term career and primed me for growth …. I had the chance to see what goes into putting on a live performance and running that space," she shared.
Reminiscing about her years in the industry, Valerie underlined the importance of knowing the real-life needs of clients, including those working in live venues. "Particularly as we continue to move toward human-centered design concepts, it's so important to know who those humans are," she said. "If you're not building your technology for those humans, it's simply not going to work."
Her time in live entertainment had its perks as well, providing a front-row seat to amazing shows on a regular basis. Valerie's best memory? "The Bootsy Collins show, hands down," she recalled. "It's rare to see a true showman with raw, undeniable talent. Bootsy was a star on the guitar and went through five different costume changes in 90 minutes – the caliber of that performance was truly magical."
An Empowered Path, An Empowered Team
For Valerie, the road to accesso wasn't a straight and narrow path; in her words, it's been a "pick your own adventure." Valerie points out that, while you don't necessarily need to bring home a technical degree to land a job in the field, persistence and dedication are key to success.
In her time in venue marketing and operations, Valerie worked extensively with different members of the accesso team and was pulled in by what we're finding to be a common draw – our people. "The importance of valuing people over all else is something that's been instilled in me since childhood, and I saw that in so many of the people who would become my future teammates," she shared. "I thought, 'These are people who really care about the individuals they work with and take great care in developing them.'"
So, in 2012, Valerie joined the accesso ShoWare quality assurance team in Maryland, where she primarily focused on two things: translating accesso technology for user manuals and attempting to "break the internet" by looking at every possible way one could use a solution and running through different scenarios to troubleshoot potential problems. She quickly rose through the ranks to become Team Lead and, eventually, Product Director. In her current role as Product Owner, Valerie works in Research & Development with our three accesso ticketing teams (accesso Passport, accesso ShoWare and accesso Siriusware), representing their interests in how and what we build next.
As Valerie moved into management, she found the opportunity to give back by investing in the development of her team members, which was something she had benefited from greatly in the early stages of her career. Of all the traits she admires in her mentors, Valerie recalled one that stands out as perhaps the most important for team development – individualized support. "I've always tried to focus on my own strengths and those of my team … what are those strengths and how can we capitalize on them?"
On the World Stage
In early 2018, Valerie moved to Lake Mary to take on her current ticketing product ownership role, but not before making an international pit stop on the way. In preparation for the recently announced expansion of accesso's partnership with Village Roadshow Theme Parks, Valerie spent a few weeks in Australia, meeting with on-the-ground team members to prepare for a smooth operational roll-out. And, while she has spent quite a bit of time in countries across the globe, this trip served as a reminder of the nuances that vary from country to country.
"Sure, there are the smaller things, like remembering to drive on the 'wrong' side of the road," Valerie noted. "But it's really important to learn the different communicational cues in each of the geographical markets we serve to ensure we're really understanding our clients' needs."
As accesso continues to expand its global presence, currently serving over 1,000 clients worldwide, Valerie emphasized the need to read between the lines with international clients. "When you're working in a globalized business landscape, it's so important to make genuine connections with people from other countries, and the key to that connection often boils down to the slightest distinctions. Picking up on those variances helps you ease people along their journey and make sure they feel comfortable partnering with you."
A High-Tech Sisterhood
Currently, women make up less than 20 percent of the U.S. technology workforce. But, in Valerie's opinion, the workforce gender gap will continue to narrow in the years to come. "Building on the growth of our current workforce, I think the next generation is going to be more diverse than anything we've seen before," she said. "It's exciting, because as more women join – both inside and outside of accesso – we're learning from the women who blazed the trail ahead of us while working to widen that path as we go along."
Valerie's first piece of advice for women looking to break through in technology is to seek out a mentor that can lend guidance and support as they navigate the ins and outs of succeeding in a traditionally male-dominated field. For Valerie, mentorship has materialized within accesso, where she's found a network of women – a "sisterhood," as she calls it – that brings together unique perspectives on the challenges and opportunities women may face in the workplace. "I'm so blessed to have this group of colleagues from all different departments and walks of life to lean on," she said.
Valerie is forthcoming about the challenges that come with being a woman in technology, particularly in a leadership position. "The biggest thing for me has been learning to negotiate the double-edged sword of being a woman of authority while maintaining my ability to persuade," she shared. But embracing those challenges rather than running from them is key to success. "Don't be afraid when things get hard," Valerie asserted. "Getting through those times and looking back on challenges you've overcome … that type of growth will get you further in your career than nearly anything else."
The Greatest Gift
When Valerie moved to the Lake Mary accesso office, she set a goal for herself: make one long-lasting friend within the first year. As she pointed out, "We're adults, so friendships take longer to develop. Plus, I was moving into a work environment filled with hundreds of people." To her surprise, Valerie had developed several close friendships with co-workers within just two months. And, while Valerie is a strong believer in working to live, not living to work, she's found that the two can intersect in surprising ways. Late last year, Valerie met a co-worker that shared her passion for performance; the two have started a band and have fun exploring different genres, from rock to pop and folk.
When asked what most excites her about coming back to work day after day, Valerie's response should come as no surprise: "Hands-down, the people I work with day after day," she said. "Our people are brilliant, generous, thoughtful and so dedicated to what we do. Finding a group like this – filled with people you trust and enjoy – is truly a gift."
To learn more about life at accesso, click here.