accesso® Sales Spotlight: IAAPA Expo Europe Edition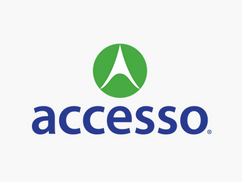 We're back with an all-new accesso Sales Spotlight! This time, we're featuring two of our amazing team members, both of whom will be onsite this week for IAAPA Expo Europe 2023 – accesso EMEA Sales Director Nicola Liscio-Heffernan and accesso VP of Sales Andrea Bisi.
Read on to learn more about Andrea and Nicola – including their background and what they bring to the table for our clients and prospects at accesso – as well as what they're most looking forward to at this year's Expo Europe.
If you'll be at the show in Vienna this week, stop by Booth A-2825 to connect with Nicola, Andrea and the rest of our accesso team. Prefer a 1:1 appointment? Email us at sales@accesso.com!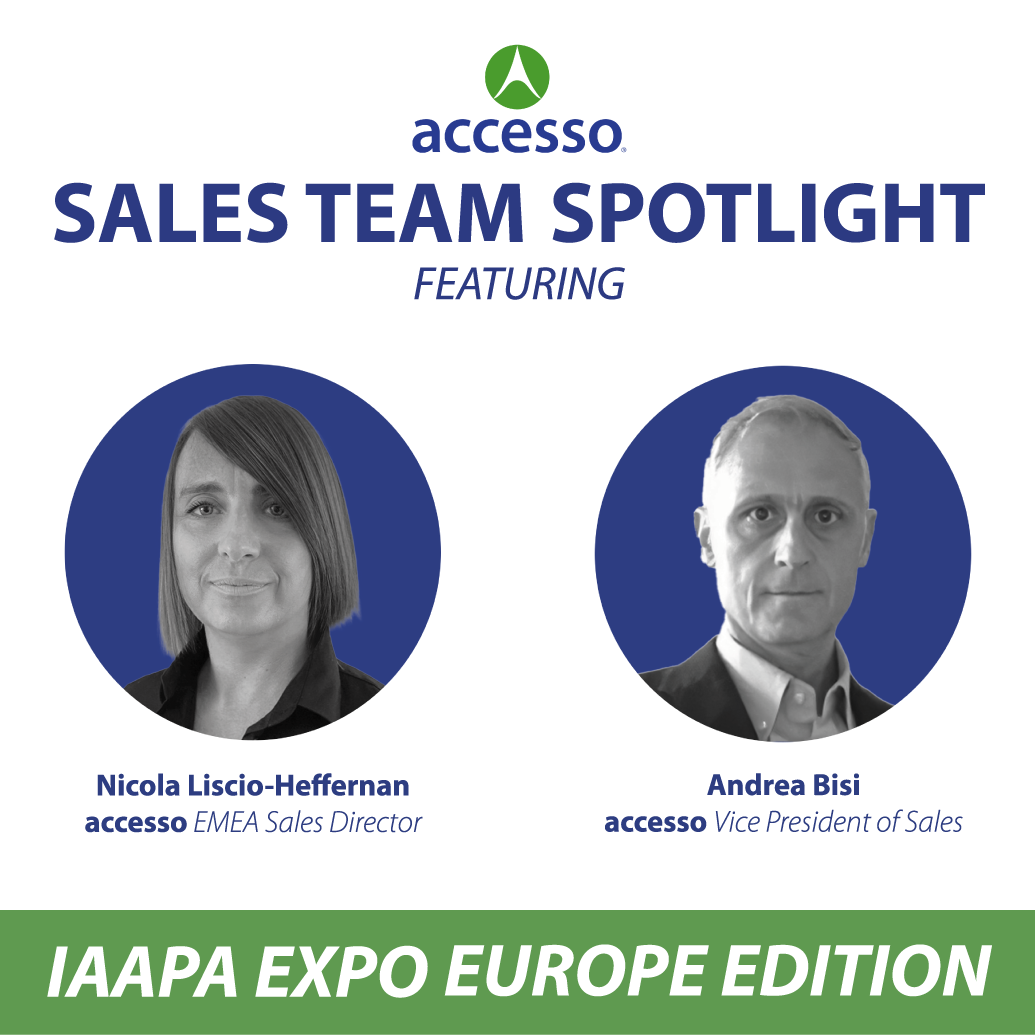 How did you get your start in the industry?

AB: I started in the leisure and entertainment industry by chance in 1996, when I got introduced to a small company in the bowling industry, and I started to sell bowling products in Europe. That lead to being hired by one of the largest bowling corporations in the world – Brunswick Bowling and Billiards.

NH: Having played for some iconic teams in the UK, my being an ex-footballer definitely helped steer my career to this industry. I broke my leg in three places back in my 20's in a cup match. I was back playing a year later – after a lot of rehab !– but that experience helped me think beyond playing football forever. So, that's when my career in sales began, leading to enterprise ticket sales for football clubs, sporting venues and large events to now ticketing, point-of-sale and virtual queuing technology for theme parks, attractions, sporting venues and theatre arenas.


What are you most looking forward to at IAAPA Expo Europe 2023?

AB: I will be looking forward to connecting with new and existing projects across theme parks, waterparks, museums, cultural venues and visitors' attraction that are looking to provide their guests a modern and consistent purchase and admission experience. These days, operators are looking to provide their customers a modern, innovative, and fully comprehensive platform. One that's multi-location, multi-channel and multi-tenant, and can support POS, ticketing, access control, online B2C and B2B sales, and much more.

At the same time, I will be looking forward to meeting friends and colleagues, and new professionals in the industry who continuously provide opportunities to learn and improve.

NH: The buzz the excitement glowing on everyone's faces when you first walk through the hall on day one is incredible! We have many partners now in Europe utilizing accesso technology – especially in ticketing and virtual queuing – and it is always great to have that face-to-face interaction. For IAAPA Europe '23, we have enhanced and all-new solutions as part of our product offering, so I am exceptionally excited to talk to prospects about what's on deck, like the accesso FreedomSM restaurant & retail platform. Plus, with our recent acquisition of VGS, we have new colleagues joining us and a new booth!


Working in this industry often leads to lots of travel. What "travel tip" have you learned over the years that you can share with those who may be just getting started?

AB: My best tip is: "Do not pack anything that you cannot carry by yourself!"

NH: Be careful when packing in front of pets –my two pups love to try and jump in the suitcase and come away with me! Get them a nice chew to enjoy, then pack when they are not looking. Always bring the kids home a theme park souvenir and always take a day off after landing day to take the wife, kids and dogs out. 😊


Do you have a great memory of helping a new client gain some much-needed technical support? Can you tell us a bit about what they implemented and how it benefited their team?

AB: Over the course of my career, I have touched on projects of all sizes and in different segments of the wider entertainment industry. Often, the smaller projects require the salesperson to wear multiple different hats, and I always enjoyed the consultative side of the sale.

To that end, I remember a comment from the GM of one of the most important clients in my bowling career. She said, "When we do not know who to go to, we contact Andrea, and he finds the solution."

NH: PortAventura World carried out a 90-day trial of our virtual queuing technology over the 2023 summer on the new, thrilling drop coaster Hurakan Condor. PortAventura is an exceptional theme park with some truly iconic rides, and with that level of excellence comes demand. Lots of demand, like 3+ hour queues!

Adopting a new innovation can be a huge leap for any theme park, so testing/understanding the solution and evaluating how guests behave when they can use queuing technology to was a great way to test the waters and get to grips with the solution's potential for their unique venue. For me, I really enjoy getting "stuck-in", so it was imperative I helped out on the day of go-live! On the first week of launch, it was a joy to stand outside the entrance of the ride to guide visitors on the QR-enabled queuing process. It was quite the experience, and the operational staff really appreciated the extra help.


About Nicola
Years of experience: 23 years


Years with accesso: 1.5 years


Professional background: My 20+ years' experience in sales started when my professional footballing days ended due to a compound fracture of my leg in a cup final. Thankfully, I kept a winning mindset and an attitude of breaking down barriers. I also held tight to a true "team spirit" ethos, which ensured my professional career continued growing successfully – even in the absence of winning a world-cup!

I spent a good bit delivering on the sale and acquisitions of football clubs and working in sport event ticketing. I am now at "my final resting place" here at accesso – a place that shares my own personal beliefs of:
Quality over quantity;
True relationship building with current partnerships and potential prospects;
Delivering an exceptional partnership approach; and, of course –
"Technology should be the solution, not the problem"!
Present focus: Generally, I spearhead sales for accesso in the EMEA region. In terms of the focus of that work, it is such an exciting time that I couldn't possibly pinpoint just one! The demand for in-park visitor experience is VITAL right now; when visitors invest in a vacation, they demand exceptional experiences – so demand for solutions like virtual queuing is skyrocketing. Guests who don't have to wait an hour in the heat can go grab a nice cold beverage instead while waiting virtually, for example.

With the industry's key priority set on enhancing the guest experience, operators are really able to reap the benefits of technology like virtual queuing. Not only can you deliver a better experience and keep bad reviews about long queues to a minimum, but it's a great extra revenue driver, too!

It's always fantastic speaking with venues that are looking for cutting-edge options that streamline operations and give guests everything they want at their fingertips. With the accesso Freedom Restaurant & Retail platform and the accesso HorizonSM ticketing & visitor management solution now added to our offering, we're even better equipped as a company to meet the needs of our clients and prospects.


About Andrea
Years of experience: 27 years


Years with accesso: 3 months


Professional background: With an educational background in accounting and computer programming, I have almost three decades of working experience in the Entertainment industry. I've covered various positions in Sales & Marketing with a demonstrated history of providing products and IT solutions to the leisure & entertainment Industry worldwide.

I'm skilled in New Market Planning, Distributors Management, Sales, Business Development, and Marketing Strategy. I enjoy the consultative approach to sales, looking to understand client's needs and finding suitable solutions. I'm proud to possess strong sales and professional ethics. I have matured my experience and skills working in multinational corporations and Fortune500 companies, with a global vision and opportunities to work in multinational teams. I've organized and presented many educational, marketing, and operational seminars over the years, managed large and small public and private bids and RFPs, as well as account managing multiple clients.

For the best part of the last 10 years, I have promoted, introduced and sold VGS products in various worldwide regions.
Present focus: My focus in my new position at accesso is on worldwide sales efforts and promotion of the latest addition to our suite of industry-leading solutions: the accesso Horizon ticketing & visitor management platform, powered by VGS.