accesso Blog Series: 5 Tips for Creating Effective In-App Marketing Copy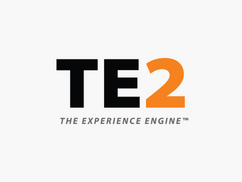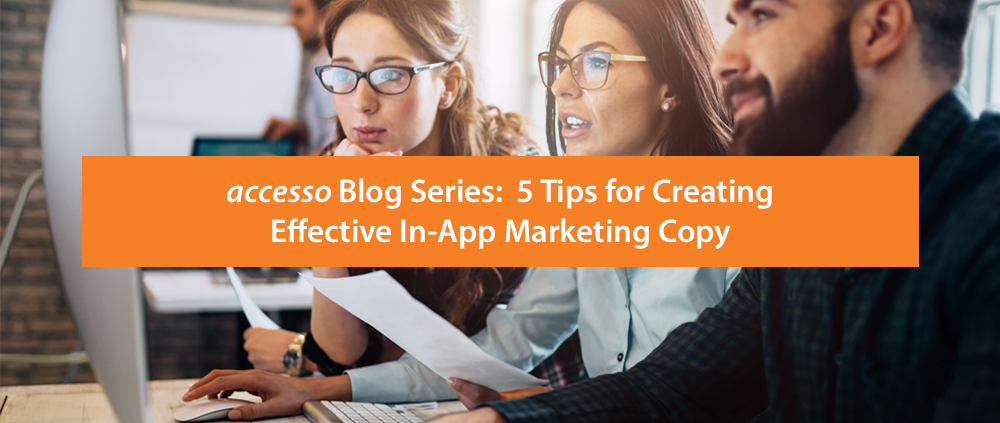 Every business wants to create an amazing app experience, something that increases conversions and has lovable and useful features all wrapped up in an engaging user interface. Implementing effective marketing copy within your app is equally important, yet is often understated. It's easy to think that engaging website copy will translate into similarly engaging app copy, but that isn't necessarily the case. We've come up with these 5 tips to remove that learning curve and give your in-app marketing a boost to grow user satisfaction, increase app store ratings and drive conversions for your brand.
Let's take a look at some of these best practices:
1. Extend Your Brand Voice
Your brand's voice may be funny and sarcastic, serious and thoughtful, or even downright boring (*cough* any furniture company ever). Whatever your brand voice may be, it's important to make sure it carries through to your app. The style and frequency of push notifications, the length and formatting of your messages and even your call-to-action (CTA) should all be a direct extension of your brand's voice. But why is maintaining your brand voice so important? Simple! Consistent brand presentation across all platforms increases revenue by up to 33%, according to a study conducted by Demand Metric.
2. Don't Be Afraid to Use Onomatopoeia and Emojis
As best-selling author and copywriting legend Joe Sugarman once said, "The sole purpose of the first sentence in an advertisement is to get you to read the second sentence." In mobile app terms, the sole purpose of the push notification text is to get you to click through and read the headline of your message or article. Yes, this means using loud words like BOOM! BANG! POW! (more eloquently called onomatopoeia) and yes, it can also mean using emojis: heart eye emojis, grinning face emojis, or whatever reflects the message and feeling you're trying to convey – as long as it's in line with your brand voice (refer to paragraph above). Studies show that emojis on Twitter can increase engagement by 25% and emojis in a Facebook post can increase the number of likes by 57%. [Insert mic drop emoji here].
3. Practice Good Body Copy Etiquette
Think of the behavior flow of your audience from the moment they receive a push notification to when they redeem a coupon, purchase your product, or land on an informational page. If you have catchy push notification text and an effective CTA, but your body copy is not mobile-friendly, your users are less likely to read it and your conversion rate will drop. Don't bore them with 5 paragraphs about the history of an event you're promoting (unless it's REALLY cool). Conversely, you also don't want to give them too little information, which could make your message look like a barren wasteland (which in turn could look very similar to your app's revenue numbers). Also, don't replicate your push notification copy in the headline of the message, unless the headline takes up a ridiculously small portion of the message screen.
Studies have shown that users tend to scan pages, whether on the web or mobile, in an "F-shaped" pattern. They first focus on the upper part of content, reading horizontally, and then move to the second block of content where they do the same thing. Finally, they will jump down to the rest of the content and scan vertically until they see something that interests them or not. This is not great for the user, and it's not great for your business either! Luckily, there are a few things you can do to help minimize scanning, or at least maximize the likelihood that the important information you want to convey will be seen: using headings and subheadings, starting those headlines with the most important words, using bulleted or numbered lists and making important words or phrases bold are all ways that you can optimize your content for users (Nielsen Norman Group).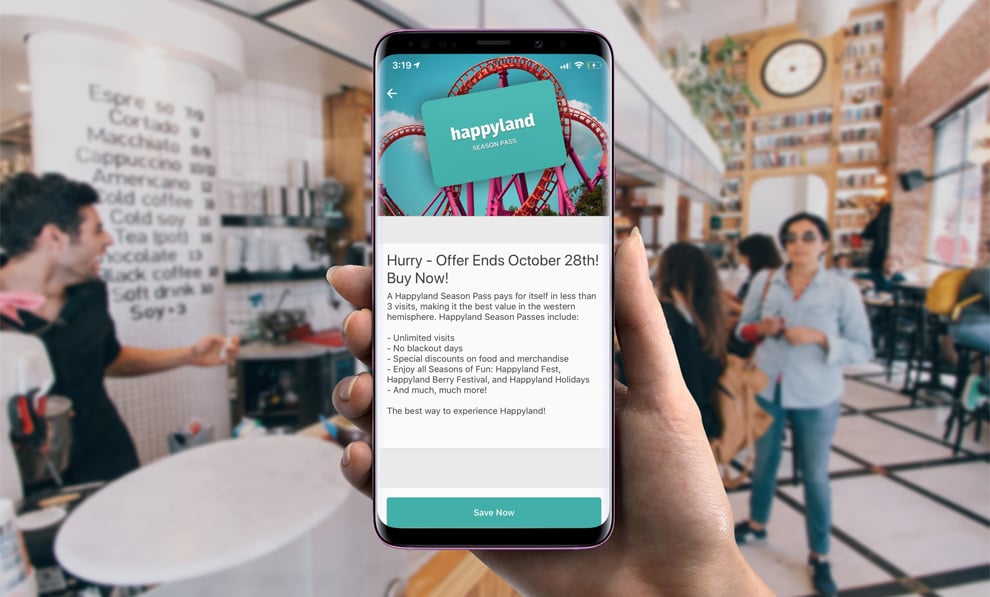 Make sure to edit your copy and trim out the unnecessary content. While adjectives and adverbs can paint a beautifully-descriptive picture in one's subconscious mind, are they really, truly, fundamentally and unquestionably necessary? (See what I did there?). In general, keeping it simple (unless you're The Economist) is always the way to go, as long as your message has a flow.
4. Use Your Call to Action Wisely
Unlike an article that can have multiple CTA's embedded in the copy, the call-to-action in an app message should only happen once. It needs to be concise and specific, so it better be powerful! Think about what you are selling your customer in each message. Are you really wanting them to just "Click now," or are you wanting them to "See how it works" or "Reserve their free copy"?
When you're crafting your CTA for each message, keep in mind that conversions are largely driven by emotion – the same reason good advertisements make us feel a certain way. FriendBuy increased signups by 34% by adding anxiety-reducing content and explaining key benefits next to their CTA. Remember: you're not selling a product or service, you're selling a less tangible and more emotional, value-driven benefit.
5. Test the Performance
The push notification is one of the most important aspects of in-app marketing, and it's also one of the easiest to test. Even if you don't have true A/B testing capabilities with your app, you can try running variations of push notification copy on alternate weeks so you can compare the metrics. Maybe "POW!" is more effective than "BANG!". Maybe the rocket ship emoji leads to a higher view rate than the heart eyes. Just keep in mind that when you are A/B testing, it's important to only test one element at a time, and that you'll want to set up the parameters in advance (specifically, the duration of the experiment and how it will be measured) so that you can have a controlled testing environment. Have fun with it, and don't be afraid to experiment as long as you are measuring!
In-App Marketing doesn't need to be difficult, but don't get discouraged if you don't compel everyone to buy your product or even open your message right off the bat. Like any craft, it is developed and perfected over time. Before you know it, you'll be driving more revenue, getting more article views and engaging with happy customers like never before.
Curious about how in-app marketing can drive revenue at your venue? Learn how to personalize the guest experience with our TE2 solution or contact us for more information.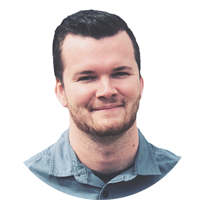 Michael Smart – Marketing Campaign Manager, The ExperienceEngine (TE2)
MichaelSmart is a Marketing Campaign Manager for The Experience Engine (TE2). He lives in San Diego,California and enjoys creating music, learning about astronomy,and anything Oprah-related.