Lo-Q Wins Prestigious IAAPA Brass Ring Award for Q-Band Product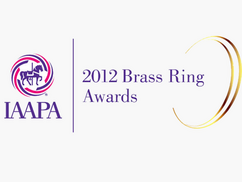 LONDON (November 15, 2012) – Lo-Q (AIM: LOQ), the AIM listed provider of virtual queuing systems for theme parks, water parks and major attractions, is proud to announce that it has been awarded an International Association of Amusement Parks and Attractions (IAAPA) Brass Ring Award for its Q-band, the Company's revolutionary water park product.
The award is for Best New Product in the Revenue & Admission Control / Wristband / RFID Technology category. Entries were judged on the benefit of the product or service to the prospective buyer, the originality or uniqueness, and the quality of the products or services together with the design and construction.
Successfully trialled earlier this year, Lo-Q has already installed the Q-band in 11 water parks in North America and is seeing an encouraging rise in customer adoption as park guests became increasingly familiar with the product and its benefits.
Lo-Q's innovative Q-band product is a revolutionary RFID-enabled wristband that is both waterproof and lightweight. Guests renting the Q-band use it to reserve a "virtual" place in line at a park's most popular slides, using kiosks located throughout the park. When their reservation time arrives, guests enter via a separate entrance and scan their band to be validated, allowing them more time to enjoy the park with less time waiting in line.
The IAAPA Brass Ring Awards are one of the attraction industry's most prestigious awards and have long been regarded as a symbol of excellence within the industry. The awards are presented each year during IAAPA Attractions Expo and are given to individuals in recognition of their service and contribution to the industry; to amusement facilities for operational excellence; and to manufacturers and suppliers for product innovation and creativity.
Founded in 1918, IAAPA is the largest international trade association for permanently situated amusement facilities worldwide. The organisation represents more than 4,300 facility, supplier, and individual members from more than 97 countries including professionals from amusement parks, theme parks, and attractions, family entertainment centres, museums and science centres, water parks and resorts, zoos and aquariums and industry manufacturers and suppliers.
Commenting on the award, Tom Burnet, Chief Executive Officer of Lo-Q plc said:
"We are immensely proud to receive this prestigious award from one of the most established organisations in the attractions industry. Our dedication to innovation and technology has helped us become the leading provider of virtual queuing systems for the amusement industry around the world and we are proud to be acknowledged for our efforts. This important industry endorsement not only recognises the quality of our technology, but highlights the fact that, despite only launching earlier this year, Q-band is already making waves in the industry."
About Lo-Q
Lo-Q is the creator of a virtual queuing system for theme parks, water parks and other leisure attractions that allows users to queue without waiting in line. Lo-Q users reserve their place in a queue electronically and are notified when their turn is up, spending less time queuing and more time enjoying their day out. Lo-Q's system has been adopted by leading theme park and attraction operators globally, with customers including Parques Reunidos, Six Flags, Dollywood, Merlin Entertainments and Compagnie des Alpes. These operators benefit not only from happier customers but also from additional revenue streams as time previously spent queuing is instead transformed into higher spending in park restaurants, gift shops and other retail facilities. By the end of 2011, more than eight million individuals had used a Lo-Q product and that number is growing.
The Company's technology is protected by extensive patents or patents pending in Europe, USA, Hong Kong and Japan. The target market for this technology is large and growing, with Lo-Q currently exploring opportunities for expansion into new theme parks and new geographies as well as opportunities to develop new product for other complementary adjacent markets.
Products include:
Q-bot: Guests reserve a ride on their hand-held Q-bot device, allowing them to enjoy the rest of the park whilst the Q-bot virtually queues for them. When it's time to ride, the Q-bot lets them know and they head straight on to their reserved ride.
Q-band: Q-band is the world's first virtual queuing solution for water parks. Using a waterproof RFID wristband, customers reserve their favourite slide at a touchscreen kiosk. The Q-band displays their wait time and once it has counted down to zero, it's time to ride and the guest heads straight onto their reserved slide. The product can also incorporate cashless payment and access control features.
Q-smart: Q-smart puts our virtual queuing technology straight onto a smart phone and allows park guests to reserve, pay for and manage their rides. Lo-Q is listed on the Alternative Investment Market ("AIM") under the ticker "LOQ".