Lo-Q is now accesso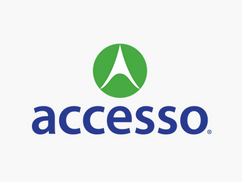 LONDON (12-November-2013) – Lo-Q plc (AIM:LOQ), the premier technology solutions provider to the attractions and leisure industry, today announced a new corporate identity – accesso®. Effective 12-November, the company will trade on the London Stock Exchange AIM Market as accesso Technology Group plc under the new ticker symbol "ACSO," and will leverage the upcoming IAAPA Expo in Orlando (Nov. 18-22), the industry's largest annual trade show, to further communicate the rebrand to its core market.
The name change reflects the company's expanded capabilities and expertise gained when it acquired the privately-held ticketing technology and e-commerce firm accesso LLC in late 2012.
"Rebranding under the accesso banner creates a unifying brand for our products and defines our core business well – helping theme parks and venues access technologies that optimize the guest experience and grow revenue," noted Tom Burnet, CEO. "The accesso name clearly encapsulates what the company aspires to be, and gives us greater flexibility to enter new markets, make future acquisitions and diversify our operations around the world."
The company will leverage the existing accesso brand assets – logo, imagery, marketing – and is integrating the innovative virtual queuing solutions into its product line as accesso LoQueueSM solutions, maintaining the brand that's become synonymous with helping theme park visitors avoid standing in lines. accesso 's ticketing, mobile and eCommerce technologies will continue to be marketed as accesso Passport®solutions.
The company's footprint has grown substantially in the past 15 months. Since adding ticketing and eCommerce capabilities in late 2012, the company has signed queuing or ticketing agreements with major operators including Universal Orlando, Merlin Entertainments, Vialand, Wet 'n' Wild Las Vegas and Phoenix, and The AutoClub Group, the second-largest AAA Club in North America.