CoCo Key Water Resorts Select accesso as New Ticketing and Access Control Provider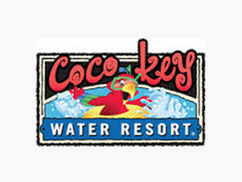 ACCESSO NOW DELIVERS STATE-OF-THE-ART ECOMMERCE FOR TROPICAL FAMILY WATER RESORTS NATIONWIDE
Orlando, FL (February 2, 2010) – CoCo Key Water Resorts, a leading collection of tropical indoor water parks and hotels, has chosen accesso to deliver comprehensive electronic ticketing and access control solutions effective February 1, 2010. Coco Key water parks now offer guests a new, themed, online shopping experience designed to streamline the purchase process and enhance resort revenue.
CoCo Key Water Resorts will employ accesso's hosted ticketing and commerce solutions including accesso SHOPLAND, a state-of-the-art print-at-home and eCommerce solution currently used by many of North America's largest visitor attractions; and accesso AFFILIATE, an innovative third party sales program that eliminates many of the challenges of traditional consignment programs delivering turnkey, customized websites to third party resellers. These accesso solutions will offer CoCo Key the ability to dynamically cross-sell and up-sell products and services based on guests' purchase patterns and online selections.
"We are excited about our switch to Accesso as a key part of our overall strategic focus on a streamlined guest experience and driving revenue growth," said Ed Baklor, Senior Vice President of CoCo Key Water Resorts. "The unique features offered by Accesso will give our waterparks the power to offer guests additional products to enhance their visit."
"Maximizing sales requires more than just offering print-at-home admission tickets," said Steve Brown, CEO of accesso. "With these Accesso solutions, CoCo Key will increase their opportunity to offer visitors the option of upgrading to a seasonal or annual pass, purchasing gift cards or arcade cards, reserving a cabana, hosting a birthday party and more though our interactive, streamlined selling process."
###
About accesso
accesso products and services provide cutting edge ticketing and commerce solutions for a wide variety of leading theme parks, water parks and zoos including; Six Flags theme parks across North America, the Columbus Zoo, Zoombezi Bay water park and Elitch Gardens. To date, accesso's technology has processed over $3 billion in sales.
accesso solutions are noted for their streamlined, easy-to-use design with a keen focus on driving topline revenue improvements. accesso technology seamlessly integrates Front Gate/Box Office Point of Sale, eCommerce, Group Sales, Consignment, Direct Marketing, Season Pass Processing, Print-At-Home Tickets, Self-Service Ticketing, and Payment Card Processing into one flexible and configurable digital platform.
accesso delivers powerful ticketing and commerce solutions that are fully hosted in a world class data center. With no complicated local network servers to maintain, accesso delivers a comprehensive, state of the art solution to any size venue in an affordable manner. For more information please visit www.accesso.com.
About CoCo Key
CoCo Key Water Resorts, created in partnership with Wave Development LLC and Sage Hospitality Resources, are the newest water resort development throughout the United States, offering a Key West-themed paradise for family adventure getaways. Managed and developed by Sage Hospitality Resources, one of the nation's leading hotel management and development companies, CoCo Key Water Resort properties are currently open in the following cities: Rockford, IL, Orlando, FL, Omaha, NE, Kansas City, MO, Columbus and Cincinnati, OH, Waterbury, CT, Mount Laurel, NJ, Fitchburg and Danvers, MA.