accesso Wins Highest Honors for Exhibitors at the IAAPA Brass Ring Awards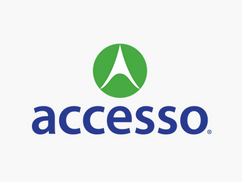 Technology Solutions Provider Honored with Impact and Brass Ring Awards – for accesso Prism wearable technology
LONDON, England (November 16, 2017) – accesso Technology Group plc (AIM: ACSO), the premier technology solutions provider to leisure, entertainment and cultural markets, was recognized by the International Association of Amusement Parks and Attractions (IAAPA) with two prestigious awards for its breakthrough accesso PrismSM technology.

At the 2017 IAAPA Attractions Expo, accesso was honored Wednesday evening with the Impact Award for accesso Prism. The highest honor awarded by IAAPA, the Impact Award is bestowed annually to a winner of one of the Best New Product Categories that, in the opinion of the judging panel of IAAPA facility members, had or will have the most impact on the amusement parks and attractions industry.

In addition to receiving the highly-coveted Impact Award, accesso was also recognized with a Brass Ring Award for accesso Prism as the best new product technology applied to amusements. This is the fifth "Best New Product Technology" award the company has received from IAAPA in the past nine years. The IAAPA Brass Ring Awards recognize excellence throughout the global attractions industry.

accesso's award-winning Prism technology is a next-generation, wearable device that heralds in a new age and new ways for theme parks, water parks and other attractions to connect with guests. Using accesso's award-winning and proprietary queuing technology, guests wearing this device can enjoy a more carefree park visit with less time spent waiting at each attraction. With just a swipe of a finger on the wristband's touchscreen menu, guests take their place in the virtual queue for an attraction or show – no kiosk or smartphone required. If a ride's operation is temporarily interrupted, or a show is rescheduled, the Prism device will notify the guest of the update.

The Prism wearable device does much more than wait in line for guests – it allows for a fully integrated smart park, creating a better, more engaging and seamless guest experience. From front gate entry, to facilitating secure cashless purchases, sending push notifications or triggering events based on guest location, Prism sets a new standard for the attractions industry.

"We are honored to receive our first-ever Impact Award, as well as a Brass Ring Award from IAAPA, recognizing the cutting-edge technology of Accesso Prism," said Steve Brown, accesso CEO. "Our dedication to improving the guest experience with technology continues to drive our development as a company that is helping to guide and shape our industry's future."
Traded publicly on the AIM market, accesso has continued to grow rapidly through long-term investment in its technology solutions platform, as well as acquisitions that deepen its ability to help clients drive efficiency and revenue growth.

About IAAPA Attractions Expo
IAAPA Attractions Expo 2017 is the premier conference and trade show for the $39.5 billion global amusement park and attractions industry. With its theme "Join the Creation Nation" the show provides attractions industry leaders, decision-makers, and visionaries with everything needed to take every guest experience to the next level, whether through the thousands of innovations, the hundreds of expert-led educational opportunities, or the engaging networking opportunities. IAAPA Attractions Expo 2017 will draw more than 32,000 industry professionals, including more than 21,000 decisions- makers and buyers from more than 100 countries to the Orange County Convention Center in Orlando, Florida, Monday, Nov. 13, through Friday, Nov. 17. The more than 560,000-net-square-foot trade show floor will be open Tuesday, Nov. 14, through Friday, Nov. 17. Additional information is available at www.IAAPA.org/IAAPAAttractionsExpo. #IAE17
About IAAPA The International Association of Amusement Parks and Attractions (IAAPA) is the premier trade association for the attractions industry worldwide. Founded in 1918, IAAPA is the largest international trade association for permanently located amusement facilities and attractions and is dedicated to the preservation and prosperity of the attractions industry. IAAPA represents more than 5,300 attraction, supplier, and individual members from more than 100 countries with member facilities including amusement and theme parks, water parks, family entertainment centers, zoos, aquariums, science centers, and museums. IAAPA hosts three annual trade shows including IAAPA Attractions Expo, Euro Attractions Show, and Asian Attractions Expo. The association's global headquarters is in Orlando, Florida, United States. The nonprofit organization maintains offices in Brussels, Hong Kong, Mexico City, and Alexandria, Virginia. To learn more, visit www.IAAPA.org or connect with us: @IAAPAHQ #IAAPA