accesso® Announces New, Cutting-Edge Point-of-Sale Solution – accesso FreedomSM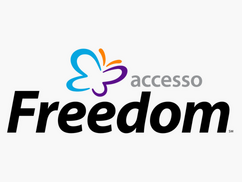 Cloud-Native Platform Offers Operators Open API and Ultimate Flexibility
with Unlimited Selling Potential Across Restaurant and Retail Operations
Twyford, UK (May 23, 2023) – accesso Technology Group (AIM: ACSO), the premier technology solutions provider for attractions and venues worldwide, today announced the launch of accesso Freedom – accesso's robust, fully hosted point-of-sale (PoS) platform and the latest addition to the company's suite of industry-leading and globally trusted technologies. Fast, frictionless, highly flexible and instantly scalable, accesso Freedom introduces a new standard of excellence in cloud-native restaurant and retail solutions for theme parks and attractions, ski areas, cultural venues, resorts and casinos.
As a unique, multi-tenanted and highly configurable Software-as-a-Service platform, the accesso Freedom solution is the first tier-one solution designed specifically for the cloud. Empowering venues to unify restaurant and retail transactions on a single platform, the solution is flexible and powerful enough to scale seamlessly for venues of any size.
The accesso Freedom platform builds upon intellectual property acquired from solutions provider Omnico Group, which – with over 20,000 installations across many of the most prestigious and well-known venues around the world and supporting more than 200M guests per year – served as the leading PoS provider for leisure & entertainment industry operators. Leveraging that depth of experience and functionality, the newly designed accesso Freedom solution delivers a modern, fully hosted restaurant and retail platform optimized for speed, flexibility and ease-of-use.
With open architecture and full API access, accesso Freedom provides operators unlimited options for service delivery to improve both guest convenience and operational efficiency. The solution is designed to serve the rapidly evolving marketplace in shifting from traditional point-of-sale terminals to more forward-thinking options, helping operators to meet guests where they are with mobile ordering, kiosks, and other self-service and automated check-out options. Powerful integrations enable operators to leverage emerging technologies such as chat bot ordering and voice-based transactions.
"Today's guest requires convenience and flexibility, and the industry needs a solution for restaurant and retail selling that can deliver on those demands" said Steve Brown, accesso CEO. "With the launch of Accesso Freedom, we are proud to usher in a new era of consumer engagement for an expansive selection of venue types across the entire leisure, entertainment and hospitality sectors."
In addition to its cloud hosting, scalability and cross-functionality to service both restaurant and retail in a single platform, accesso Freedom offers:
Unified sales across all touchpoints, including kiosks, mobile ordering and operator-driven transactions;
Full support across table service and quick service-style operations;
Comprehensive kitchen management for orders across all order entry points;
Support for a wide range of retail pricing structures and promotions;
Integrations to complementary solutions (including player management for casinos);
User-friendly, intuitive system administration and reporting;
Loyalty program support; and,
Cashless wallets and entitlements.
Providing a comprehensive view of a venue's retail and dining salespoints, accesso Freedom empowers operators to easily manage, control and enhance their guest engagement unlike ever before. And clients of accesso Freedom join more than 1,000 venues around the globe in benefitting from the world-class support, expertise and partnership of accesso. To learn more about accesso Freedom, visit https://www.accesso.com/solutions/restaurant-retail.