Tom Burnet Named Executive Chairman; Steve Brown Promoted to CEO at accesso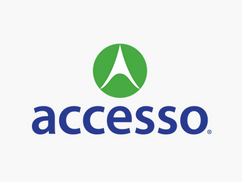 LONDON (24-May-2016) – accesso Technology Group plc (AIM: ACSO), the premier technology solutions provider to leisure, entertainment and cultural markets, today announced Tom Burnet has been appointed executive chairman of the board while current chief operating officer Steve Brown has been promoted to chief executive officer, with both of these changes effective immediately. Brown will also continue to serve as president of the company and maintain his position on the board.
"We continue to extend our market leadership position and with our exceptional employees and continued momentum are in prime position to expand our business pipeline well beyond our current level of business and accelerate growth," said Burnet.
Burnet, who joined the company (then Lo-Q) as CEO in late 2010 has led the company's growth from a market value of $20m to over $400m today, becomes the executive chairman of the board. In this role, he will lead the company's strategy, medium to long term growth opportunities and investor relations.
Lo-Q acquired accesso, a privately held Florida based ticketing solutions provider, from Brown in late 2012 and named him chief operating officer. Since the acquisition and adopting the accesso brand as its corporate identity, the company's revenues have more than tripled, from $30 million to $93 million in 2015.
"Steve is a strong, strategic executive who has maintained a steady focus on continuously investing in our teams and ongoing R&D to improve the quality of the technology we deliver to our clients, and has been a key part of the tremendous growth we've experienced over the past three years," said Burnet. "With Steve in the CEO position, I am completely confident that the energy and momentum we've enjoyed will continue to build as we work together to fully realize Accesso's full potential as a leading solutions platform."
Brown takes the helm in the midst of significant corporate and global expansion that has been driven by acquisitions, ongoing strategic investment in the company's solutions as well as significant success acquiring new clients. Today nearly 1,000 attractions and venues worldwide employ accesso technology – including the majority of the leading names in the leisure industry.
"We have enjoyed tremendous growth in a relatively short period of time, and we're only getting started," said Brown. "I am honored to lead this dynamic company and am confident that with our world-class team, industry expertise and unfettered commitment to service we will continue to build enduring customer relationships around the world and further deliver considerable shareholder value in the years ahead."
Previously, Brown held executive level ticketing, finance, sales and eCommerce roles for Six Flags and with Disney Parks & Resorts.