accesso Blog Series: Discovering the Latest and Greatest Feature Updates in our accesso ShoWare solution!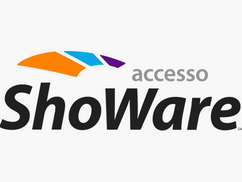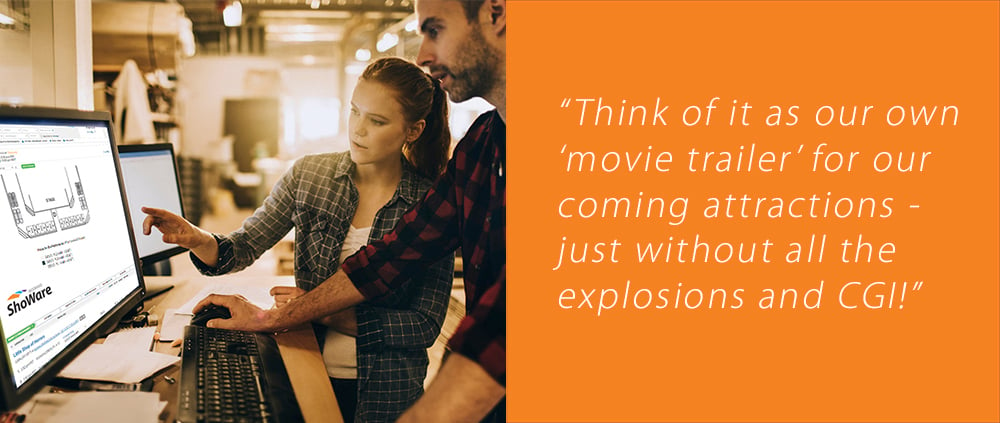 The sun is out, the temperatures are rising, and more and more people in your office are taking vacations. This can only mean one thing - summer is here! Now despite my contempt for humidity and hot weather, I still enjoy the summer months. Heading downtown to catch a ballgame, a weekend trip to the beach or going outside without needing eight layers of clothing are all great things about this time of year, and so are summer blockbusters! I have fun watching the trailers and deciding which movies I "have" to see versus which ones I'll just wait to show up on Netflix eventually. These days, with so many new movies coming out every year it can be hard to keep track of what's coming up. At accesso, we've been working hard to release as many new features and enhancements in our accesso ShoWare solution as possible to keep our ticketing solution working as efficiently as ever for all our clients. In fact, so many features have been coming out that we created a messaging system to alert our clients to new enhancements every time they log into the site. Think of it as our own "movie trailer" for our coming attractions – just without all the explosions and CGI!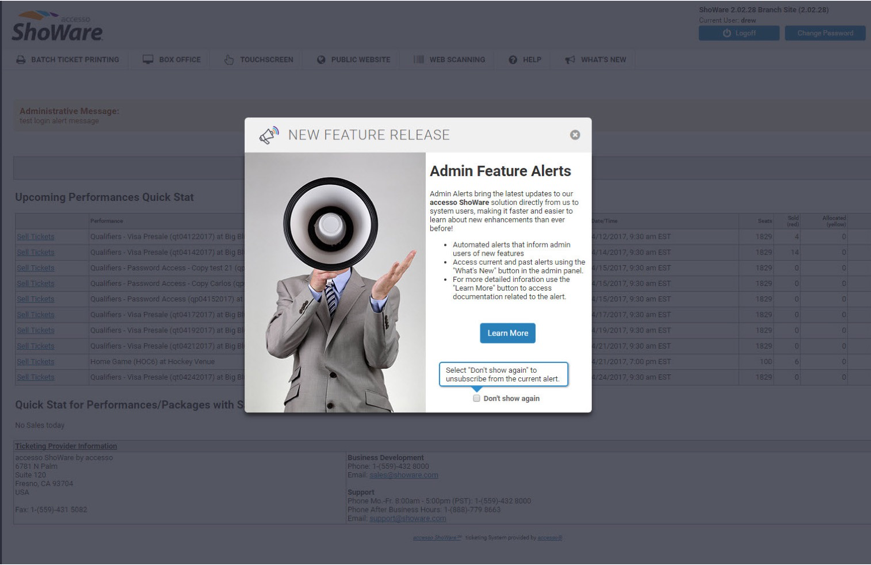 Do you know why there are eight Fast and Furious movies? Because they keep making the studio a billion dollars each! There's two more on the way for those of us who haven't had enough of cars flying through airplanes in a ball of fire and Vin Diesel slowly walking out of the rubble without a scratch on him. While the studio heads may be "listening" to our requests by counting box office receipts, accesso ShoWare is listening to our client requests and making them a reality. Many of our new features came directly from our clients, old and new, making suggestions to us as to how we can improve our product to work better. Our most recent enhancement was a revamp of our seat map creation and editing tools. Now, our clients can easily save their maps at virtually any point of the creation process and not worry about losing any of the work they've started. Did you forget to add that last standing room only section to your map? No need to start over, adding a section is now possible. Creating and editing seat maps has never been easier than it is now!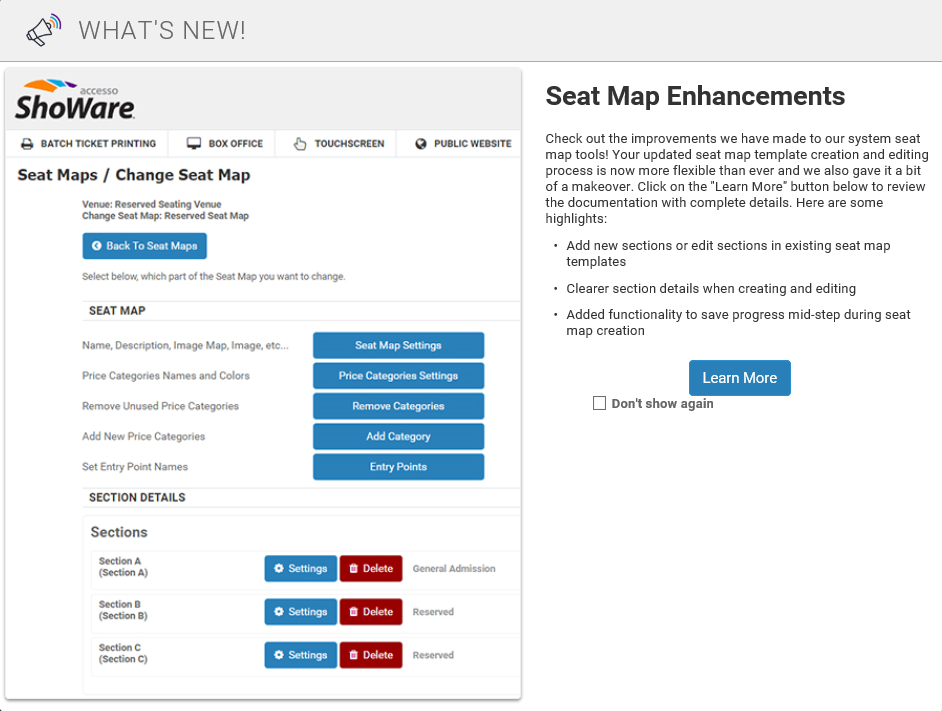 A simple and intuitive purchase experience online is vital. We know that our clients want their patrons to have a great guest experience, and that starts with their eCommerce purchase. We've enhanced our coupon functionality so that new reduced prices that are unlocked when a coupon is entered are automatically applied to the patron's tickets in the basket. We've switched to a brand-new, HTML-based, Print at Home ticket that allows our clients more customization than ever before, while at the same time eliminating delivery errors and the need to resend a patron their order. You can now offer your clients beautifully designed Apple Wallet tickets that will make the delivery process a breeze. Our new streamlined guest checkout options have greatly reduced the number of page clicks needed to complete an order, and have significantly sped up the checkout process overall. We listen to the tiny details too, like the need for additional send email fields on our invoices so that our clients with group sales teams can easily invoice multiple people within an individual patron account. No detail is too small for us to consider improving!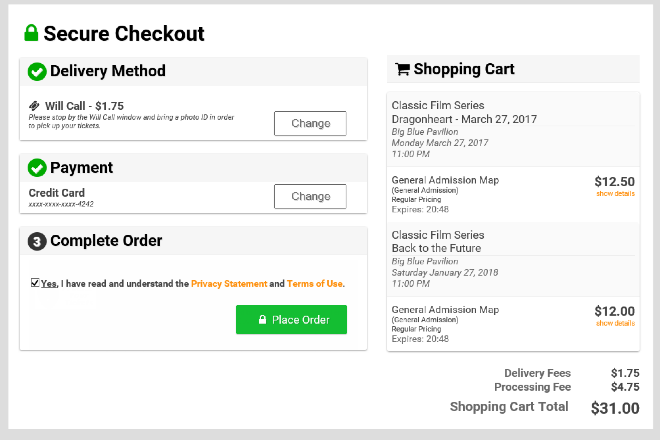 Lover of the arts that I am, I'm not solely interested in "blockbuster" movies. I also like to take the time to check out as many of the Oscar nominated films that I can each year. And while every new enhancement to our accesso ShoWare solution may not be considered a blockbuster, many of these lesser seen features are just as valuable. Our patrons can now set automatic sales times for password protected performances, doing away with the need to manually turn passwords off at the end of a presale. Price codes limitations have been added for both overall quantities and patron-based purchase restrictions. This allows our clients to set up their own version of dynamic pricing that they can manage themselves. We've added new outputs to many of our reports and enhanced them to reflect the needs of our clients and have also added more options for which reports can be sent out via our automatically scheduled emails. Our accesso ShoWare solution has a new web-based scanning feature that allows our clients to use Android platform phones and tablets in conjunction with a small Bluetooth device to scan tickets.
Every sequel or remake strives to be an improvement on the original. We all know that just about all of them fail to live up to this goal (except Toy Story 3 - it's an emotional roller coaster!). Our accesso ShoWare ticketing solution is different though - it is getting better every single week with new enhancements and features designed to make our clients lives easier. We value our clients and their input and are constantly striving to offer the best service possible. If you have questions on any of the latest updates to the accesso ShoWare solution, be sure to read the "What's New" alert messages, or see them all by clicking on the "What's New" button located next to the Help button at the top of your site. Also, never hesitate to call or email your client services manager. We want to hear from you and make sure that you're getting all that you can from your site. We've got more new features to roll out soon, be sure to get your popcorn ready!
If you want to find out more information about our accesso ShoWare solution or want to schedule a personalized demonstration let us know about your business needs here or email [email protected]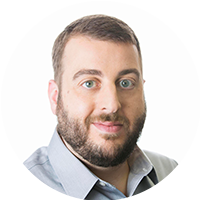 Chris Waldmann- Sr. Client Services Manager, Annapolis Office
Chris Waldmann is a Senior Client Services Manager from Baltimore, Maryland. Chris has worked with accesso ShoWare for nearly 4 years. He's an avid sports fan, likes to travel, and is working on convincing management to get a penguin for an office pet!