accesso® Wins Prestigious Brass Ring Award at IAAPA Expo 2022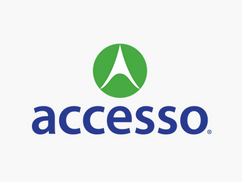 Orlando, FL (Nov. 18, 2022) – accesso Technology Group (AIM: ACSO) – the premier technology solutions provider for attractions and venues worldwide – was honored by IAAPA – the preeminent association for the attractions industry – this week, receiving its coveted Image Award at IAAPA Expo 2022 in Orlando, FL. Allocated annually as part of the esteemed IAAPA Brass Ring Awards program, the Image Award recognizes the single most outstanding exhibit booth on the IAAPA Expo show floor, regardless of size or category.
"The IAAPA Exhibitor Awards Committee had the astounding task of reviewing more than 1,000 unique and creative Exhibitor booths. We judge based on design creativity, staff engagement and overall visual appeal," said Lakeisha Dukes, IAAPA Exhibitor Awards Committee Chair. "While there were many extraordinary booths, one Exhibitor booth stood out among the rest. The Accesso booth had a modern, sleek, impactful booth design with great visual appeal. The staff was very engaging, and it felt like we walked right into a professional office space."
"Our team at Accesso is thrilled to accept this year's IAAPA Image Award," said Valery Gooch, accesso Marketing Manager. "I'm incredibly proud of our team's passion, collaboration and shared commitment to excellence that helped bring this year's vision to life."
Since 1994, accesso has served as a corporate IAAPA member and routine exhibitor at the annual IAAPA Expo – the largest trade show for attractions operators and suppliers. accesso is also a proud Platinum Sponsor of IAAPA Expo 2022 and Global Sponsor of the association's international expos.