accesso® Named One of Orlando's "Best Places to Work"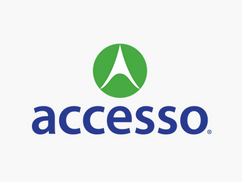 Orlando Business Journal Honors accesso Team in Central Florida
ORLANDO, Fla. (July 11, 2018) – accesso Technology Group plc (AIM: ACSO), the premier technology solutions provider to leisure, entertainment and cultural markets, has been recognized by the Orlando Business Journal as one of Central Florida's "Best Places to Work."
The Orlando Business Journal's award program celebrates companies and organizations that go beyond the norm to foster an enjoyable and meaningful work environment. accesso's office in Lake Mary, Florida, which employs more than 200 professionals, ranked fourth among large companies honored in the competition. Honorees were determined by the results of an anonymous employee survey, which evaluates work engagement, team effectiveness and more.
"We're honored to be recognized as one of Central Florida's best work environments," said Paul Noland, accesso CEO. "Our team knows that their passion, dedication and innovation are what drive our success. In receiving this recognition, it reinforces our commitment to being an employer of choice."

As accesso continues to grow worldwide, it is focused on attracting and retaining the best talent in the industry. Over the past few years, accesso has taken many steps to reaffirm their commitment to their people. These include the implementation of Workplace (Facebook at Work) to improve global communication across their ten offices worldwide and the launch of accesso core competencies and career path planning. They are also committed to supporting their local committees by offering employees 8 hours of paid volunteer time annually to a charitable organization of their choice.
In a story about accesso's inclusion on the "Best Places to Work" list, the Orlando Business Journal lauded the company's core values – passion, commitment, teamwork, innovation and integrity – as well as its "smart, talented people."
"We're all individuals with our own ideas and vision, and are super-passionate … we play, we laugh, we drink loads of coffee and we eat too many donuts," Trinh Force, Recruiting Manager for accesso, shared with the Orlando Business Journal. "It creates an atmosphere where people are eager to solve problems together and continuously want to do better for not only themselves, but also for their teams, their peers and our clients. I truly believe our culture is what makes Accesso such a rewarding and enjoyable place to work."