accesso Launches Handheld Sales Solution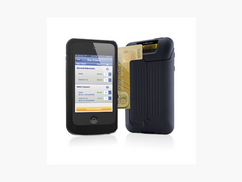 Innovative Mobile Line-Busting Allows Ticket Sellers to Expedite Guest Entry
LAKE MARY, Fla. (9-November-2012) – A new mobile point-of-sale ticketing alternative from the industry's most innovative ticketing technology company could make long queue lines at theme park turnstiles a thing of the past.
accesso, an award-winning firm based in Lake Mary, has added a powerful mobile point-of-sale ticketing solution to its fully-hosted ticketing suite, accesso Passport.
This new compact handheld, wireless ticket sales solution allows venues to deploy additional staff to assist with onsite ticket sales during peak sales periods. Leveraging state-of-the art hardware used by hundreds of leading retailers, accesso's new mobile point-of-sale solution operates in conjunction with Apple's iPod touch or iPhone and includes secure credit card processing, electronic signature capture, on-demand ticket printing and paperless receipts.
"We know attractions focus on a speedy ticket purchase experience, but they are often constrained by a limited number of ticket sales windows", said Steve Brown, accesso CEO. "Our new mobile point of sale solution will allow our clients to add additional, roaming sales staff to speed up the process of buying an entrance ticket."
The new mobile POS solution expands accesso's portfolio of right-fit ticketing solutions to support the following:
Sales of general admission, season passes, parking, promotional offers and date/time, limited capacity events "Mobile will-call" allowing operators to look up past purchases to reprint guest tickets Leverages the same device which offers mobile entry validation and provides a complete mobile solution for onsite front gate operations
Attraction operators attending the IAAPA Attractions Expo 2012 at the Orlando Convention Center can see a full demonstration of the new mobile point of sale solution as well as the full accesso Passport ticketing suite by visiting Exhibit 4239.
###
About accesso
accesso delivers powerful, fully-hosted ticketing and technology solutions to top tier attractions across North America from theme parks and water parks to zoos, concerts and sporting events.
The accesso Passport ticketing suite is comprehensive, fully-hosted admission sales platform backed by a unique, ongoing approach to service that focuses on sales optimization and client support. The accesso Passport ticketing suite is noted for its streamlined, easy-to-use design with seamlessly integrated revenue driving features and includes online, front gate and mobile ticketing applications.
All accesso solutions are continually updated with an unique rapid release approach to enhancements to ensure speedy response to client needs and prompt capture of emerging market opportunities. accesso maintains Level 1 PCI Data Security Standard certification, the highest certification available from major credit card providers.
For more information visit accesso.com