accesso Announces Support for Passbook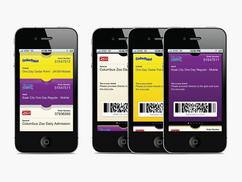 Enhancement Positions Cedar Fair Theme Parks, Columbus Zoo Among First Attractions to Leverage New iPhone Functionality
LAKE MARY, Fla. (September 19, 2012) – accesso, a leading provider of attraction ticketing, is one of the first travel industry suppliers to adapt its ticketing platform to support Passbook, a new feature in Apple's new iOS 6 operating system.
Passbook allows iPhone users to collect and more easily access digital versions of boarding passes, loyalty rewards and theme park, concert or sporting event tickets in one convenient iPhone app.
The accesso solution lets consumers import ticket purchases from attractions, including 11 Cedar Fair Entertainment theme parks as well as the Columbus Zoo and Aquarium, directly into their Passbook app on their iPhone for access anytime, anywhere.
"Mobile commerce has become a vital sales strategy for theme parks and other attraction venues, not to mention a guest expectation," said Steve Brown, accesso CEO. "We knew iPhone users would be eager to leverage Passbook so we worked aggressively to integrate it with our ticketing solution well in advance so that our clients and their guests could begin using the feature from day one."
###
About accesso
accesso delivers powerful fully hosted ticketing and commerce solutions that help customers increase sales without adding expensive infrastructure costs. accesso's onsite, online and on-the-go ticketing solutions support top attractions across North America from theme parks and water parks to zoos, concerts and sporting events. accesso's solutions are fully hosted and supported 24/7 to ensure continual focus on the user experience and sales results.
accesso's proprietary solutions are noted for streamlined, easy-to-use designs with seamlessly integrated revenue driving features. All accesso solutions are continually updated to provide speed to market for enhancements and to stay current with the latest advances in technology. accesso's maintains Level 1 PCI Data Security Standard certification, the highest rank available from major credit card providers. For more information visit accesso.com