accesso Blog Series: Volunteering with a Purpose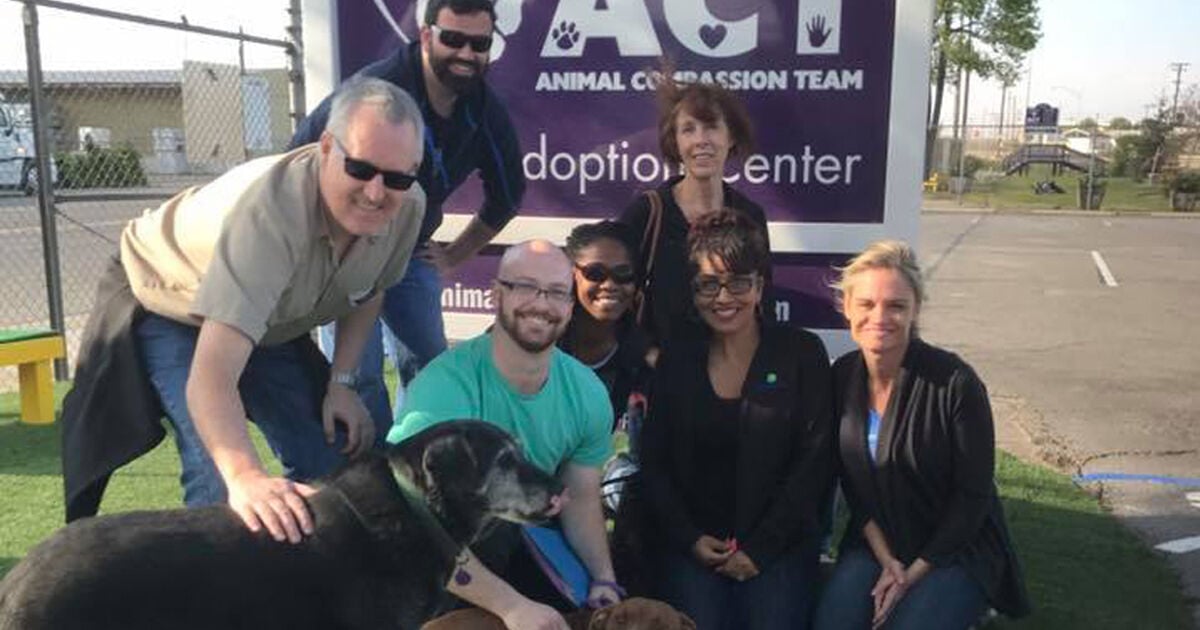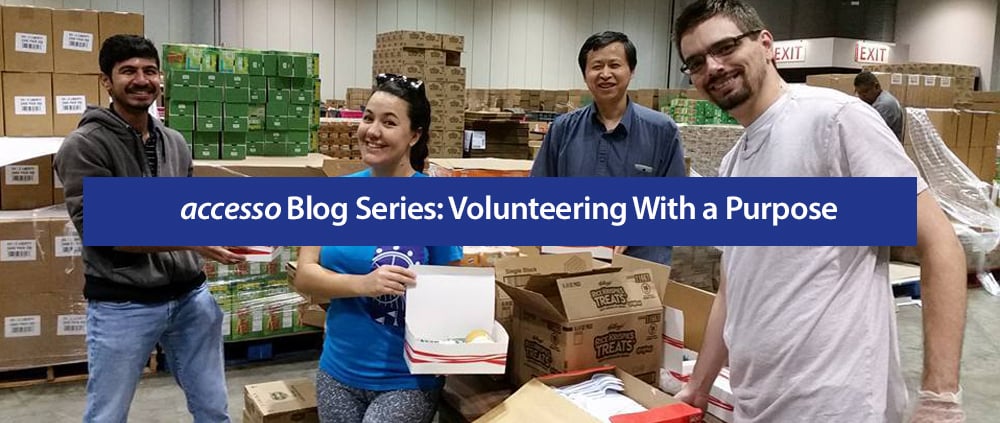 The world today is more connected than ever, and we realize our business not only impacts our clients and employees but the global community as well. That's why we provide volunteer time each year for our team members to give back to a charitable organization of their choice. Sometimes these are individual passions, whereas other times, team members or offices will select an organization and volunteer together as a group. Since we introduced this benefit in 2016 we have been absolutely thrilled to see so many of our team members making a difference in their communities, and we've also learned that those who are utilizing this benefit find it very gratifying. Read on to learn about some of their stories!
Animal Compassion Team — Fresno, CA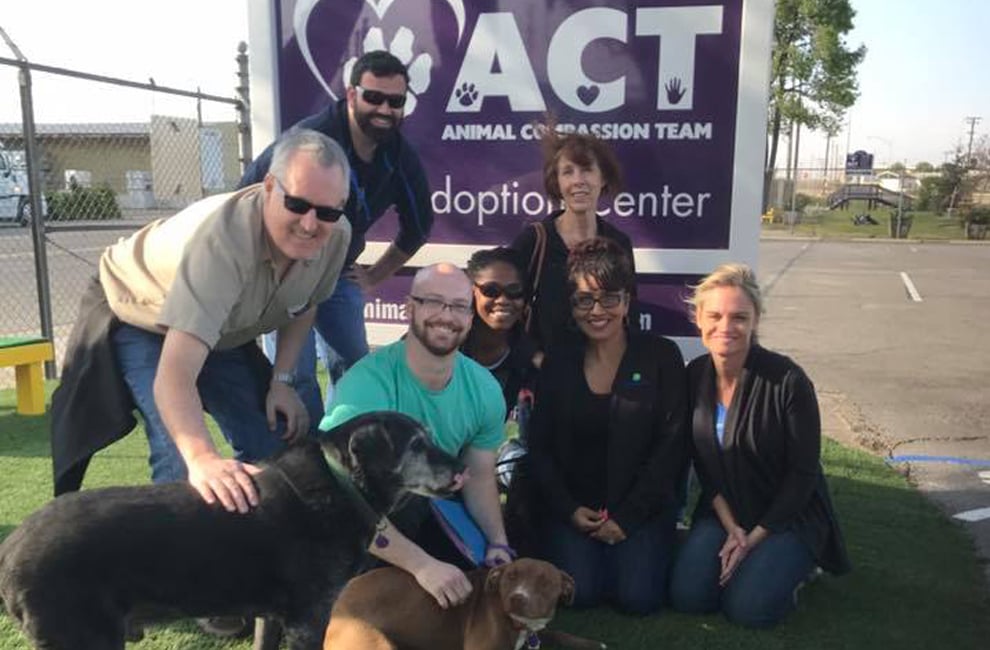 Our accesso ShoWare Finance team in Fresno realized they all shared a common love of animals, so volunteering with the local Animal Compassion Team seemed like a perfect fit. After a day of cleaning various play spaces, mopping floors, raking leaves, bathing dogs and puppies, and sneaking in some snuggles here and there, the team knew they wanted to return for a second visit.
"It felt good to lend a helping hand and at the end of the day, look back on everything we had accomplished," said Christene. "Getting to spend a day representing Accesso and helping the shelter with whatever they had to do was incredible," added Sean Faulkner, "and of course, the moments where we could show an animal some love and give them a clean space to be able to meet their forever family were extremely rewarding."
The team recruited a few additional volunteers from the Fresno office and returned for what they thought would be another ordinary (albeit rewarding) day at the shelter. Due to a chance meeting, and perhaps a tiny bit of encouragement from the rest of the team, it proved to be anything but. "The second time we went, I was sort of open to getting a dog…" revealed Sean, "and then I met Valla and fell in love. She was shy and timid, but I knew she was the one for me." Sean discovered that Valla was scheduled for a visit with another family that weekend, but he said he knew he did not want to leave without her, so he fought for her and got to bring her home that day. "It was the best decision I have ever made!"
When asked what the group learned about one another during their volunteer time, they told us that it demonstrated first-hand the level of commitment that each team member has: "We're all willing to do whatever it takes to work toward a common goal," said Sean. We can't wait to see what will happen on their next visit!
Habitat for Humanity of Taos — Taos, NM
accesso Siriusware Production Manager Pepper Scott participated in the National Women Build Week with Habitat for Humanity of Taos, an organization close to her heart: "Habitat for Humanity of Taos (HFHT) is a self-funded organization that my husband was very closely involved with for more than 20 years until MS prevented him from participating in such activities," she explained. "With HFHT, I get to spend more time with people from various backgrounds and learn so much from them." HFHT works to provide homes for people who are 50% below the median income. Set alongside the beautiful backdrop of the Sangre de Cristo Mountains, Pepper's team spent the day building a house from the ground up for a family of five. Pepper helped out in many different ways throughout the day, including carrying supplies, cutting lumber and nailing house frames. "I love power tools, so I really enjoyed learning about new tools and techniques" she said. One of Pepper's favorite parts of volunteering with HFHT is that it introduces her to different people and perspectives. "I enjoy always learning new things from others, about their life experiences and their beliefs. You get to appreciate life and people even more."
We're proud to say that Pepper received a special shout-out on the group's Facebook page as they recognized her for being an especially hard worker. They also shared a lovely sentiment that speaks to her passion for the cause: "Every day I pick up the hammer and it makes me proud to be part of this."
Harvest Time International — Orlando, FL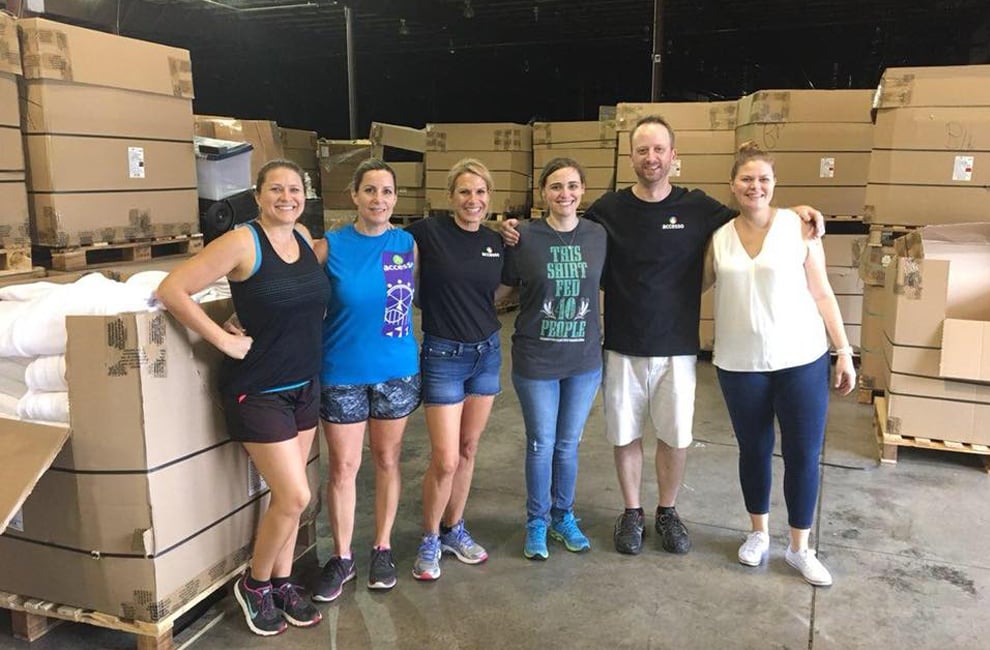 After Hurricane Maria struck Puerto Rico last fall, the Project Management Team of our accesso Passport solution wanted to find a way to help. They chose to volunteer their time with Harvest Time International, a charity that provides hunger and disaster relief to families in the United States and worldwide.
"I think it's so important to take the opportunity to get outside of the normal work day and interact with each other to serve our community," wrote VP of Software Engineering Kimberly Koester, "Plus, helping others is a fantastic way to strengthen and solidify the group!"
The team of six was able to sort roughly 2,350 sheets and blankets to be packaged and shipped to families in Puerto Rico and Guatemala. When asked about her favorite part of the volunteer time, Kimberly told us that she was inspired by the teamwork she saw throughout the day. "It painted a clear picture of what we can accomplish when there is a strong sense of passion, teamwork and commitment to accomplishing your goal."
Orlando Cares — Lake Mary, FL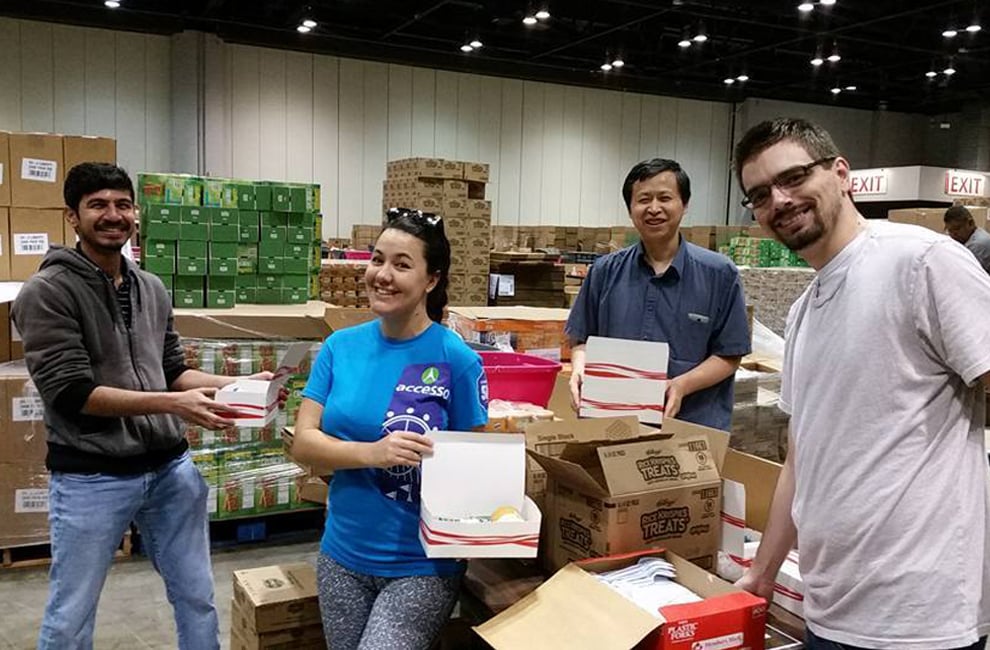 In October 2017, a team from our Lake Mary Office headed to the Orange County Convention Center to help Orlando Cares with their "Hope for Puerto Rico" campaign following the devastating hurricane. From reading about how entire power grids were knocked out and seeing footage of people stranded with limited supplies, this group felt a strong urge to help in whatever way they could. At the end of the day, they were able to package over 400 boxes and 1,344 total meals. "I learned how well my group worked as a team," said Senior Software Engineer Jimmy Wong. "Since we all had a common goal of assisting with the relief effort, we worked like a well-oiled machine. I also got to know more about everyone on my team more personally, which was a great way to connect with people in the office who I don't normally work with each day."
To learn more about life at accesso and browse open careers, click here.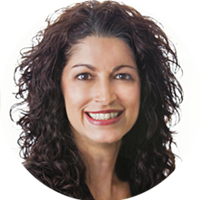 Maura Schiefelbein – Vice President, People
In her role as Vice President, People, Maura Schiefelbein is focused on attracting, engaging and developing accesso's most important asset - our people. This includes developing organization-wide talent-related solutions, as well as partnering with business leaders to plan and implement organizational change while continuing to foster accesso's unique culture reflective of our core values: Passion, Commitment, Innovation, Teamwork and Integrity.