accesso Blog Series: Highlights from our 2017 Seminar!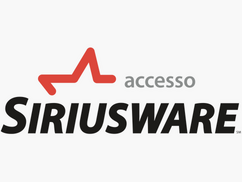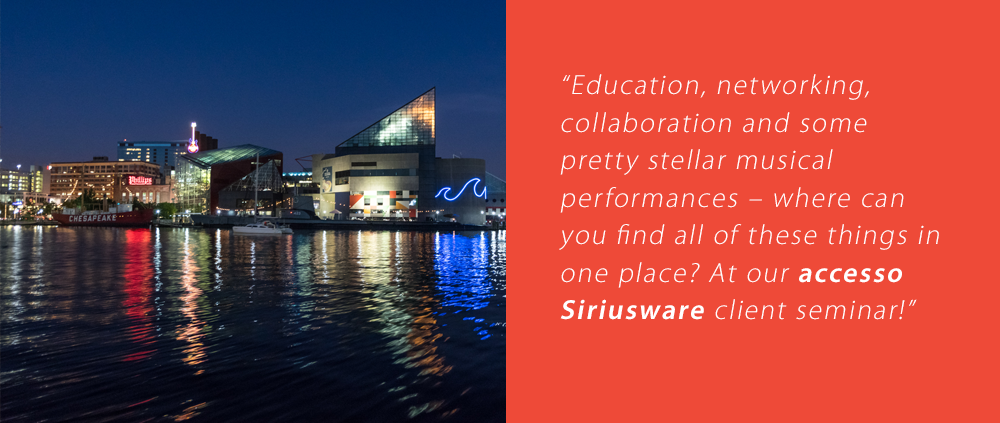 Education, networking, collaboration and some pretty stellar musical performances – where can you find all of these things in one place? At our accesso Siriusware client seminar! We just wrapped up our 2017 meeting in Baltimore and had the pleasure of sharing the week (and sometimes the stage) with over 250 clients from 111 sites throughout the ski, cultural and attractions industries. The seminar is one of my favorite opportunities to meet clients, share ideas and learn more about the latest functionality in our accesso Siriusware and accesso Passport solutions. With so many collaborative discussions happening, it's great to hear about the latest industry trends and client suggestions that we can take back to our product team to help guide further enhancements. It helps us stay true to the partnership we work so hard to create with our clients, and it's a lot of fun, too!

We kicked off the week with a happy hour in the French Kitchen, a contemporary French restaurant located in the Versailles room of the historic Lord Baltimore Hotel. Clients and staff enjoyed hors d'oeuvres and a selection of dinner and dessert items while mingling with new faces and catching up with peers from previous years.

On Tuesday morning, accesso Siriusware President Mark Danemann opened the day's events with an inspiring keynote. Mark began the talk by outlining the origins of accesso and went on to highlight some of the exciting acquisitions that took place just this year with the addition of Ingresso and TE2. With a variety of new development and a slew of new sites coming on board, accesso is moving our software into the future at an extremely fast pace.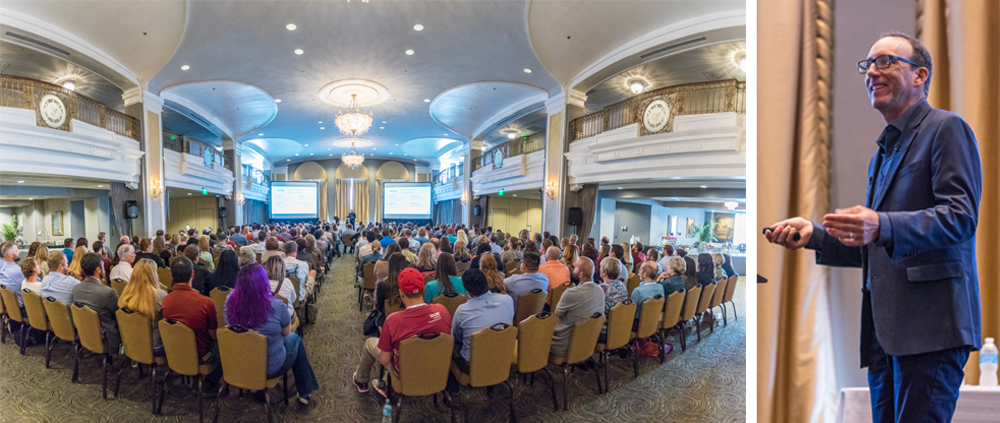 Throughout the week, clients had the option to participate in a variety of classes to suit all interests and experience levels, taught by many of our accesso employees. It was a collaborative week, with clients and staff sharing ideas and learning more about accesso's offerings across our wide portfolio of solutions including newer products like Siriusware control and accesso Passport Exchange. While many classes covered advanced topics for longtime users, we were thrilled to meet new trainees who were following our comprehensive basics track that covers the use of our accesso Siriusware software from configuration through the sales transaction process. Since we have many clients now utilizing an integration of both our accesso Siriusware and accesso Passport solutions, we decided to offer several classes specifically focused on this new software collaboration. In roundtable sessions, clients could elaborate on how they utilize the software at their sites and share ideas for new enhancements.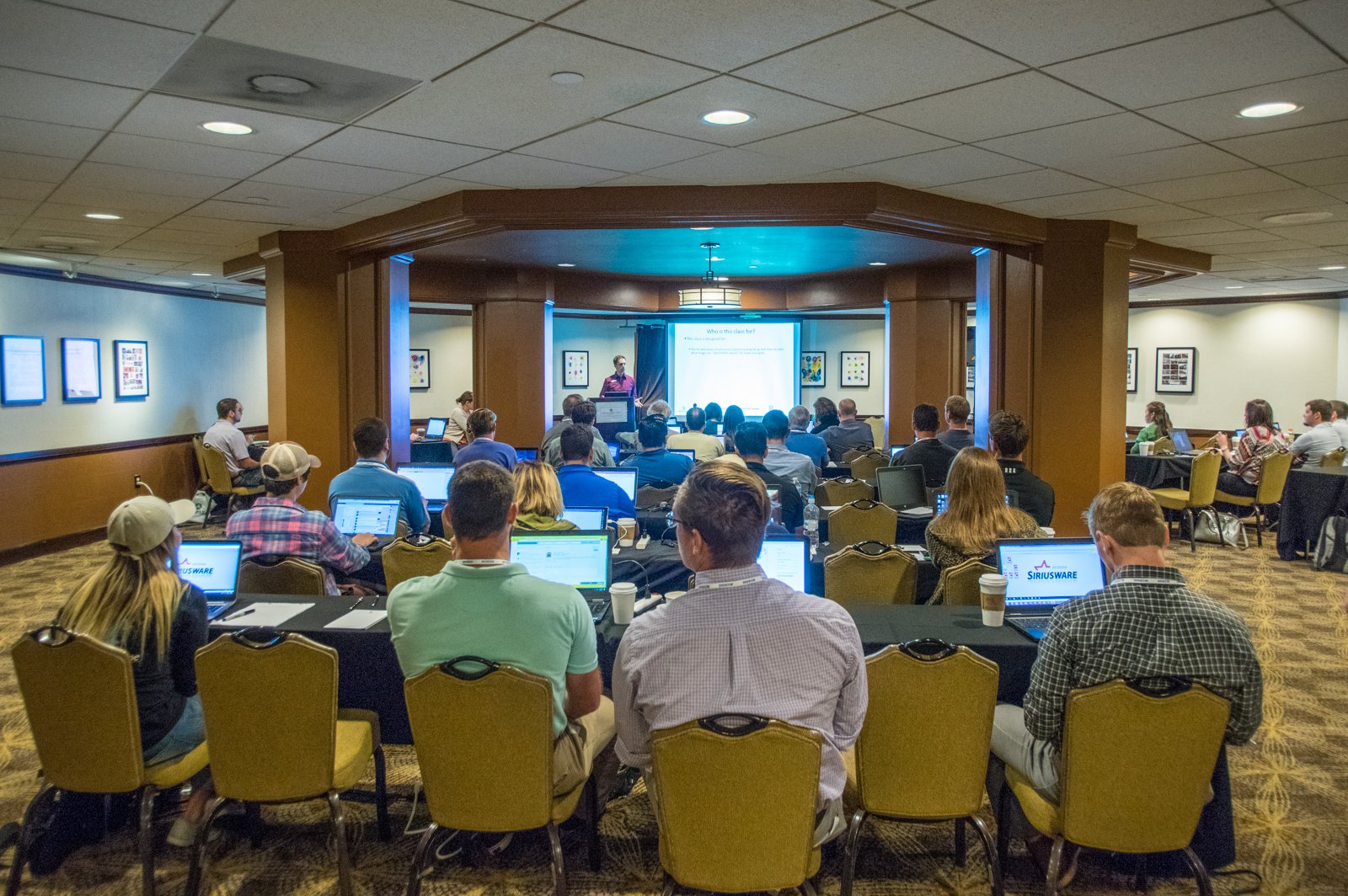 While attending events and sessions, we always hear strong feedback from many of our clients on the value of the seminar, and this year was no different. Clients praised the opportunity to "get instruction from the people who know the system best" and the ability to collaborate with fellow users on how to utilize the software in new and innovative ways: "specifically for me this year," one client mentioned, "was how to build products in the best way possible for our new facility and activities from real-life examples and to also talk through the reporting implications of the different ways the products could be built."
Our Wednesday evening event has traditionally been the one night where our staff and clients can swap out the business dress for casual attire and put on their metaphorical party hats. This year was no exception. Held at the piano bar, Howl at The Moon Baltimore, attendees were treated to delicious food, drinks and fantastic entertainment including guitar, piano, and vocal performances from some of our very own clients and even a few staff members who joined the crew of professional in-house musicians! It was a great way to socialize, relax and enjoy some outstanding entertainment.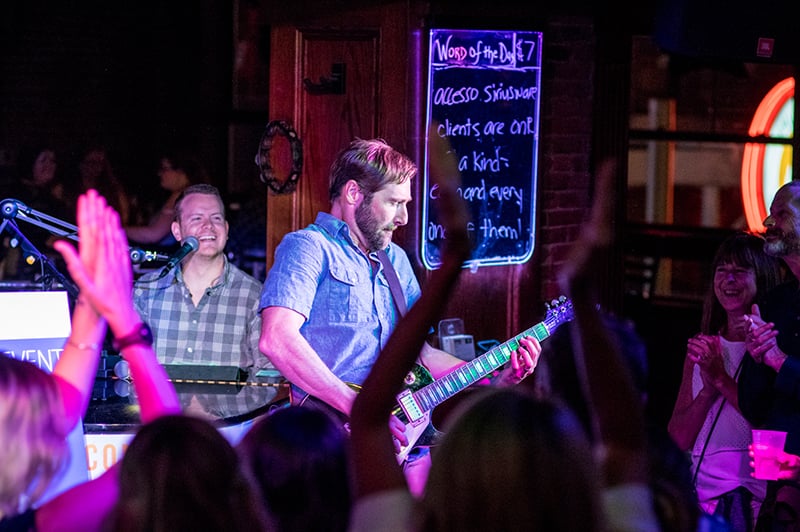 A number of industry vendors and partners were able to join us this year to help expand our clients' education of integrations that we offer, as well as advancements, regulations, and new products that are available. Thank you to Skidata, Elavon, Axess, Posiflex, Globe Ticket, 1Risk, Diginex, Inntopia, JCA and Partnertech USA for your support.
Overall, the accesso seminar provided an amazing opportunity to bring staff and clients into one place for education, camaraderie and collaboration. Every year the event grows to include more venues and additional topics, and we're so excited to announce that next year's event will be held in beautiful San Diego at the Paradise Point Resort & Spa. This tropical oasis on Mission Bay includes gardens, lagoons, miles of beach and an award-winning spa, and sets the backdrop for a week of learning, networking and fun. We hope to see you there!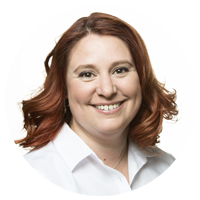 Jennifer Roth - Proposal Specialist
Jennifer joined accesso in 2011, bringing her passion for software and writing to the team along with her extensive knowledge of the cultural and non-profit industries. She began her career as a professional archaeologist (à-la Indiana Jones but with more technical writing and a lot less fortune and glory) before managing several museums including the first hands-on history children's museum in the country and a National Park Service historic site dedicated to Abraham Lincoln's Stay in Gettysburg. When she's not writing technical documents or winning proposals for us, she enjoys hiking, yoga, knitting, working on the next great American novel and relaxing at home with her family.